---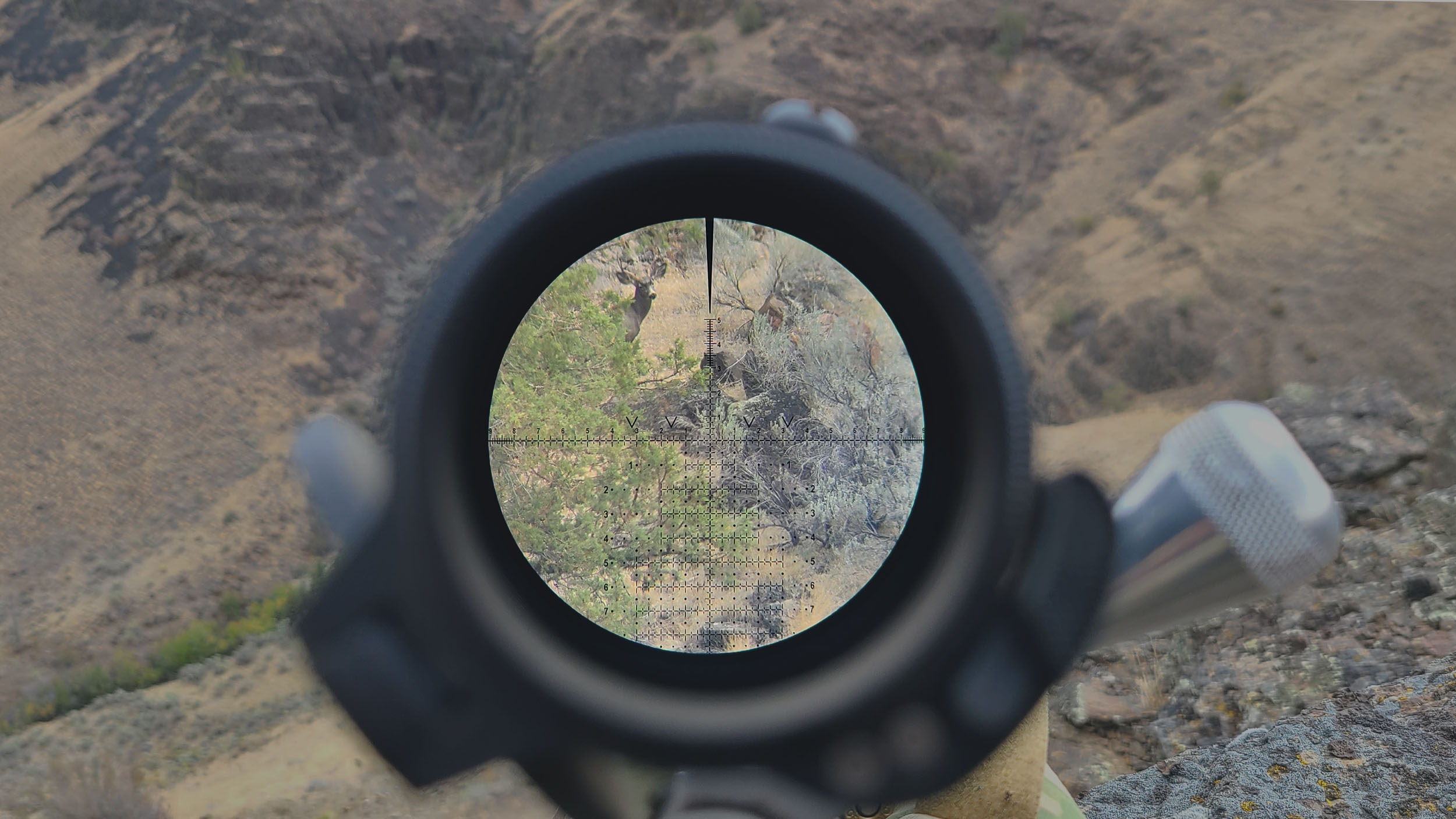 Leupold has been blazing the trail of reticle design since the release of the now-classic Duplex reticle in 1962. Today, shooters ask more of their rifles and optics than ever before, and Leupold continues to develop reticles that fit those growing needs. This drive for innovation means there are now plenty of reticle options on the market. But how do you know which one will work for you?
The Low-Light Hunter
---
When you're in the field from sunrise to sunset, either on the trail or in a blind, it's vital that you and your gear are ready when the pivotal moment comes. To maximize your shooting light, check out these reticles meant to stand out in dim condintions.
Duplex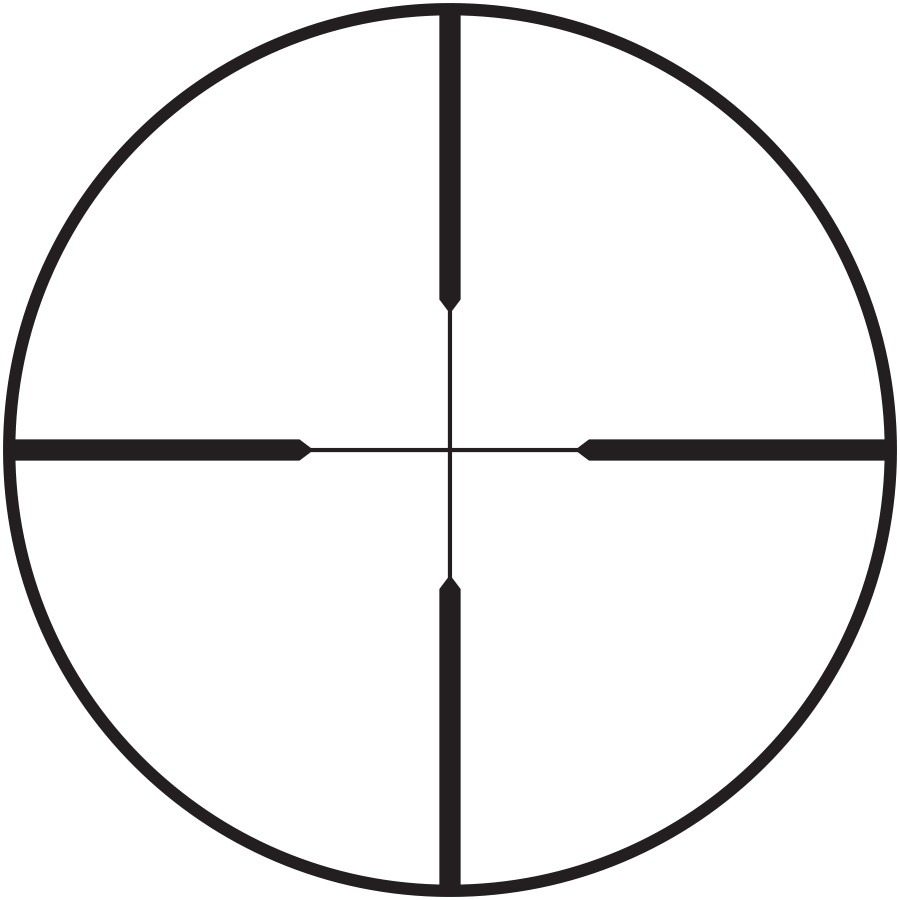 Sometimes you can't beat the classics. The Duplex reticle features heavy lines that draw your eye to the center, where it narrows into a fine cross hair. This often-copied combination provides low-light visibility without sacrificing a precise aiming point.
Hunt-Plex
The Hunt-Plex reticle takes this idea one step further. Available in the VX-Freedom series, the Hunt-Plex provides heavy lines that are twice as heavy as those on the Duplex while tapering down to the same fine crosshair.
Firedot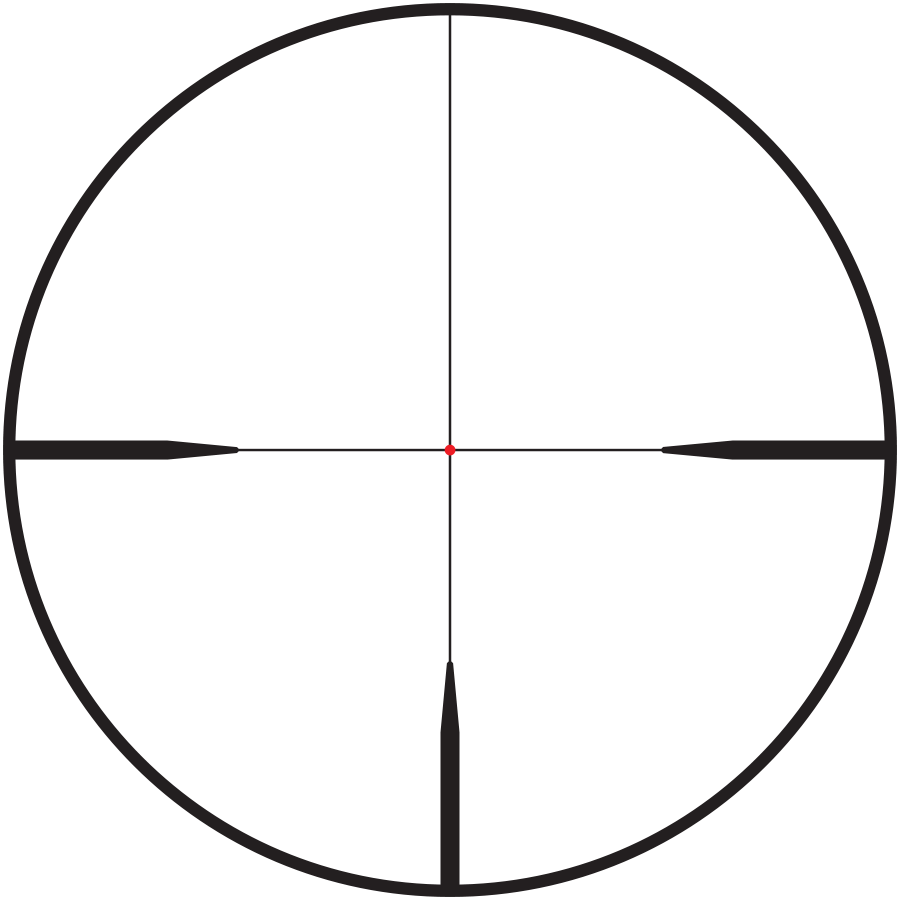 Finally, illuminated reticles are the last word in low-light aiming. An illuminated FireDot reticle will make your aiming point clear, even against the darkest backdrops. FireDot illumination is available in virtually all Leupold hunting riflescope series and provides a fine red dot at the center of your reticle.
The Long-Range Hunter
---
Depending on where you hunt, you may need to take long shots where your bullet drops significantly. There are many ways to account for this, but our Custom Dial System (CDS) is one of the better options. We also provide reticles that help you account for your bullet drop without requiring you to touch your dials.
B & C
The Boone and Crockett reticle is designed for big game hunters who shoot as far as 500-600 yards. It starts with the Duplex design but adds easy-to-use hold-over marks to aim with at longer ranges. The unique design of this reticle allows shooters to fine-tune it to their load by making small changes to the magnification of the scope and zero distance. It even has 10MPH wind holds for 300 and 400 yards.
WIND-PLEX
Even a light breeze can throw your bullet off target when long-range hunting. Based on the Duplex design, the Wind-Plex reticle adds wind holds laid out in 1 MOA increments to help you compensate for crosswinds in the field. This reticle forgoes elevation hash marks, giving you a clutter-free sight picture and making it ideal for pairing with our Custom Dial System (CDS). Since our CDS eliminates the need for holdovers, just aim dead on and use the Wind-Plex's horizontal hash marks to account for wind before squeezing the trigger.
TMOA
The TMOA reticle improves upon the Wind-Plex design by adding elevation holds for more precise shots at longer ranges. With 0.5 MOA heavy lines, razor-thin 0.1 MOA fine lines, and an open 0.2 MOA center, The TMOA won't cover up your target when you're locked on from 500+ yards. This reticle is available with or without illumination, making it a good option for both long-range and low-light hunters.
The Tactical or PRS Shooter
---
Long-range Precision Rifle Shooting is the fastest-growing shooting sport in the country, and Leupold has just the right reticles to help shooters beat out the competition. Regardless of whether your spotter knows MOA or MIL, we've got you covered. Knowing there are plenty of shooters in both camps, we designed the PR2 in both MOA and MIL. MILs can make certain math easier, like range finding, but you may have been using MOA your whole shooting career. Either way, we've got you covered with the PR2-MIL and PR2-MOA reticles.
FFP PR2-MOA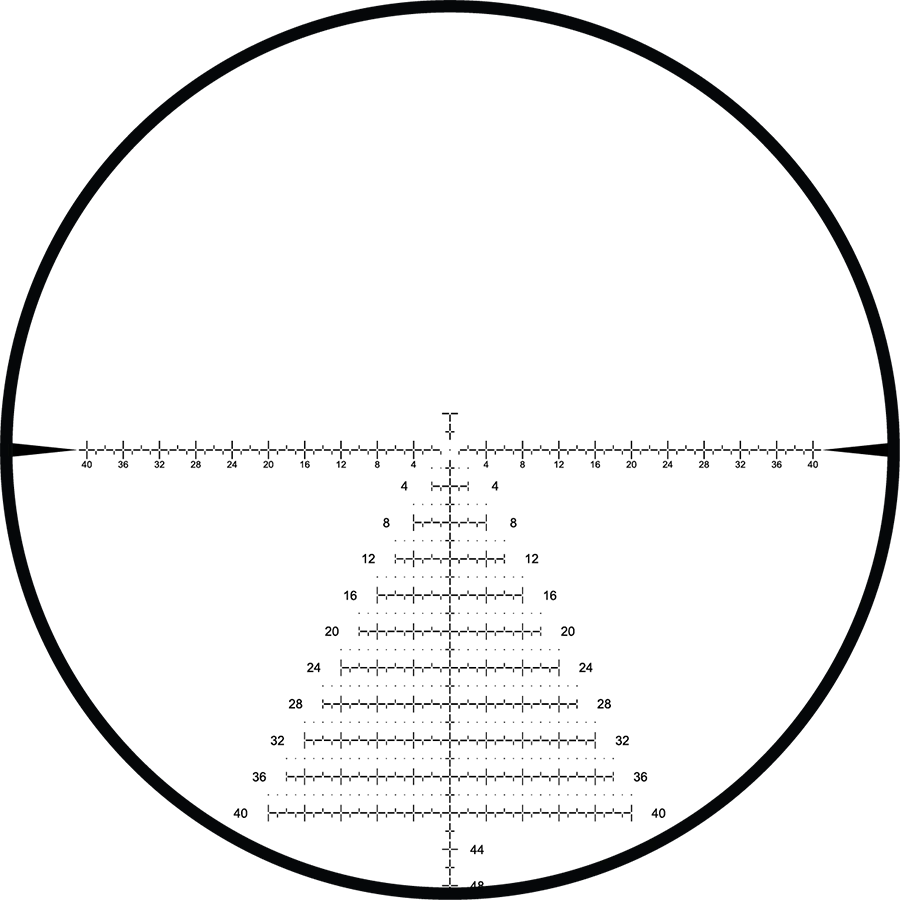 The first focal plane PR2-MOA and PR2-MIL reticles, available in the Mark 5HD 5-25x56 and 7-35x56, are designed for long-range speed and precision. Range your target, compensate for drop, and hold for wind.
FFP PR2-MIL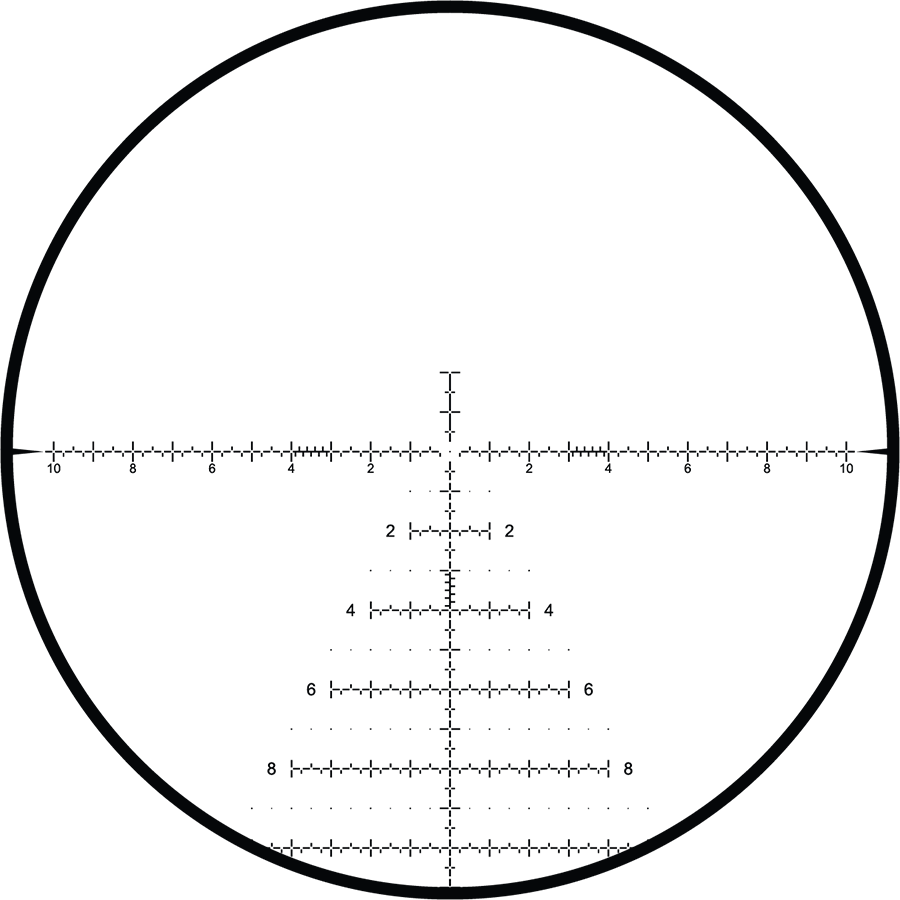 The PR2 reticles give you all this functionality without the clutter found on most extreme-range reticles. And their first focal plane design means that you can use them for accurate range estimations and holdovers on any mangnification setting.
AR Ballistic
For the more tactical side, we offer the AR-Ballistic reticle in the Mark 3HD series. Just like the Boone and Crockett, it starts with the Duplex layout and adds hash marks for bullet drop, but the AR-Ballistic reticle is specialized for 223Rem/5.56NATO ammunition. It also provides wind drift holds at 300, 400, and 500 yards.
---
FIREDOT DUPLEX
FIREDOT TWILIGHT HUNTER
BOONE AND CROCKETT
Low-Light hunters

Firedot Duplex

https://www.leupold.com/reticle/illum-firedot-duplex/

FireDot Twilight Hunter

https://www.leupold.com/reticle/illum-firedot-twilight-hunter/

Boone and Crockett

https://www.leupold.com/reticle/illum-boone-and-crockett/

Long Range Hunters

Tri-MOA

https://www.leupold.com/reticle/tri-moa/

Creedmoor Reticle

https://www.leupold.com/reticle/creedmoor/

LR Varmint Hunter

https://www.leupold.com/reticle/illum-lr-varmint-hunter/

UltimateSlam (for slug gun and muzzleloader)

https://www.leupold.com/reticle/ultimateslam/

PRS

FFP PR1-MOA

https://www.leupold.com/reticle/pr1-moa/

FFP PR1-MOA

https://www.leupold.com/reticle/illum-ffp-pr1-moa/

FFP PR1-MIL

https://www.leupold.com/reticle/PR-1MIL/

FFP PR1-MIL

https://www.leupold.com/reticle/Illum-FFP-PR-1MIL/

FFP CCH
NEED TO ADD PR2 OPTIONS
Riflescopes Offer Many Reticle Choices
---
To make the best selection possible, check out all of our riflescopes broken down by series and what reticles are available with each series. No matter which one you choose, you can be confident you'll be getting a waterproof and fogproof scope with Leupold's Lifetime Guarantee.
VX-6HD
The VX-6HD is our crowning achievement when it comes to hunting scopes and offers the most flexibility out of a single scope. Its high-definition edge-to-edge clarity, brightness, color consistency, and resolution mean you can hunt from first light to last light with absolute confidence. This hunting scope is packaged with all the trimmings, including lens covers, so you'll be ready to roll from the moment you open the box.
RETICLES
PRICE RANGE: $$$$
VX-5HD
If you want the best dollar-for-dollar value, the VX-5HD is the perfect balance between size and functionality. It's got everything you need and nothing you don't to overcome any obstacle when getting a bead on your next big game animal. Its high-definition lenses will perform side-by-side with the VX-6HD.
RETICLES
PRICE RANGE: $$$
VX-3HD
As you can imagine, packing light is almost always a good idea for extended hunts. The VX-3HD takes a slimmed-down approach to deliver legendary performance in the backcountry. If you plan on putting in the miles on your upcoming hunt, you'll be glad to have the rugged and lightweight VX-3HD.
VX-Freedom
Get the job done every time with the VX-Freedom. Reliable, accurate, and extremely clear, this scope punches way above its price tag. This is the perfect scope for new hunters or anyone who prefers quality optical performance on every rifle they own.
Mark 5HD
Mark 5HD riflescope delivers superior edge-to-edge clarity and extreme low-light performance, while the versatility of its multiple reticle options will give you an advantage at the range or in the field. With three revolutions of elevation adjustment, the Mark 5HD was built to max out the performance of the latest long-range rifles and ammo.
RETICLES
PRICE RANGE: $$$$$
Mark 3HD
Built for any shooter who needs a rugged, precise, and repeatable MIL-based scope for their rifle, the Mark 3HD™ delivers elite optical performance and match-grade repeatability under any conditions.