---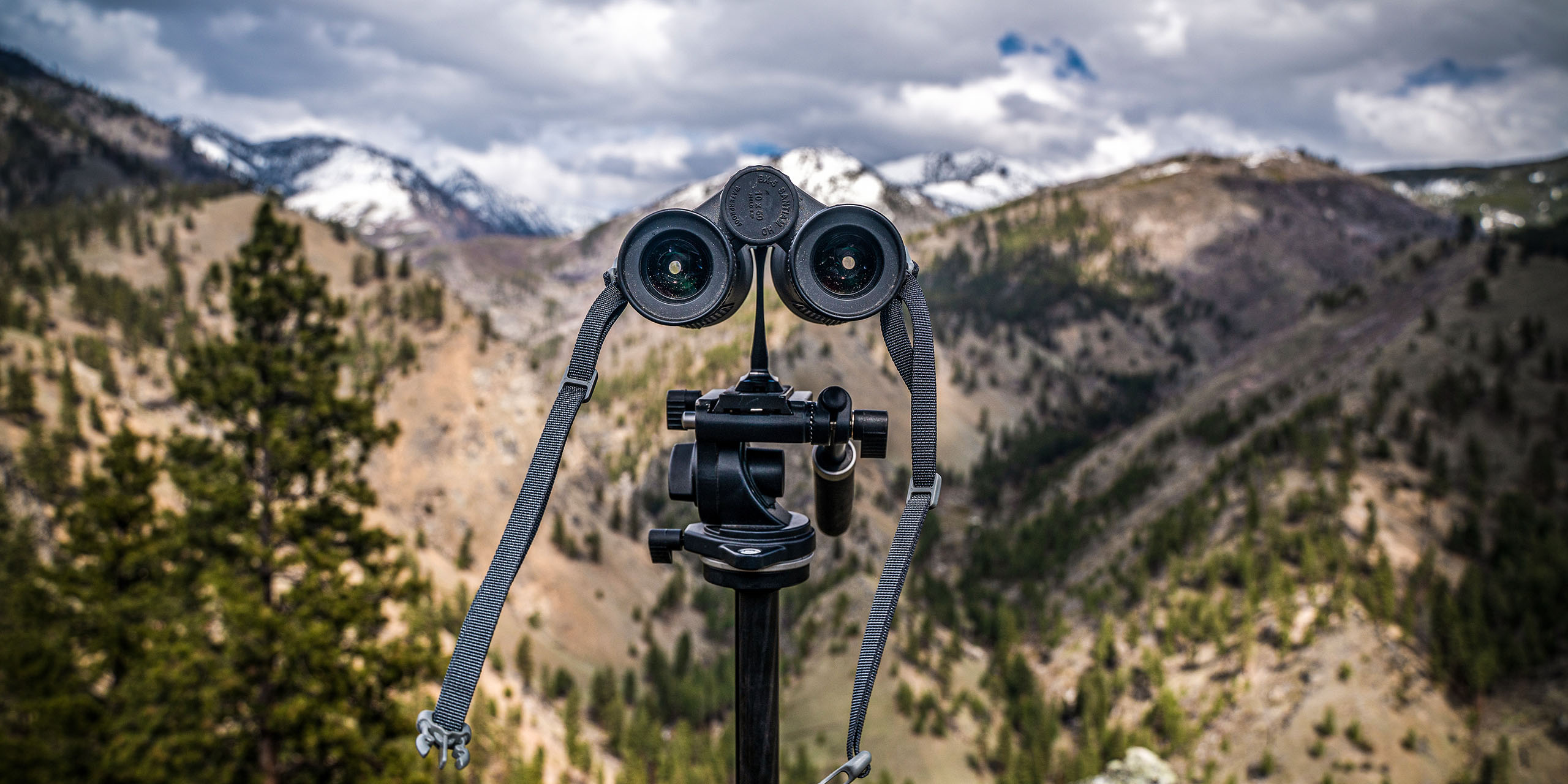 There isn't much I regret about my 2021 Colorado archery bighorn sheep hunt. I spent multiple days in one of the world's most scenic locales hunting with friends and family, chasing one of the most magnificent creatures on earth. It was a win!
There was more Leupold glass attached to tripods, toted in packs, and worn in harnesses than you could imagine. As far as optics go, the mixture of 10s, 15s, and spotters was impressive — some might dub it overkill. Still, one item I didn't have and regret not having is a system for attaching my 10- and 15-power Leupold BX-5 Santiam HD binoculars to my carbon-fiber Leupold Alpine Tripod. I knew how much time my sheep crew and I would spend behind glass, but I didn't realize how vital a top-notch pair of bino-to-tripod attachment devices were.
WHY USE A TRIPOD ADAPTER?
With your binoculars attached to a tripod, shake is eliminated, and field-of-view is increased when making initial scans and searches. Having binos mounted to a tripod also makes scanning smoother, and when you come across an animal, you can immediately lock the binos down. Then, there are those times you're scanning, and you believe you see something that resembles an animal, but you must move to the spotter or have a buddy who is already on a spotter zoom in for confirmation. When you can lock your binos down, this process is greatly simplified.
Twice on my sheep hunt, I thought I spied a ram when scanning with my 10-power binos, but I couldn't lock those binos down and get a spotter on the exact location. I was glassing by myself, and by the time I tried to grab some landmarks with my 10s and moved my spotter into position, it took too long, and whatever I was looking at had moved. Bino adapters reduce shake by taking the weight of the binoculars out of your hands, and if you do lock on an animal, you can quickly share your view with others and leave the binos locked on position while more glass is added.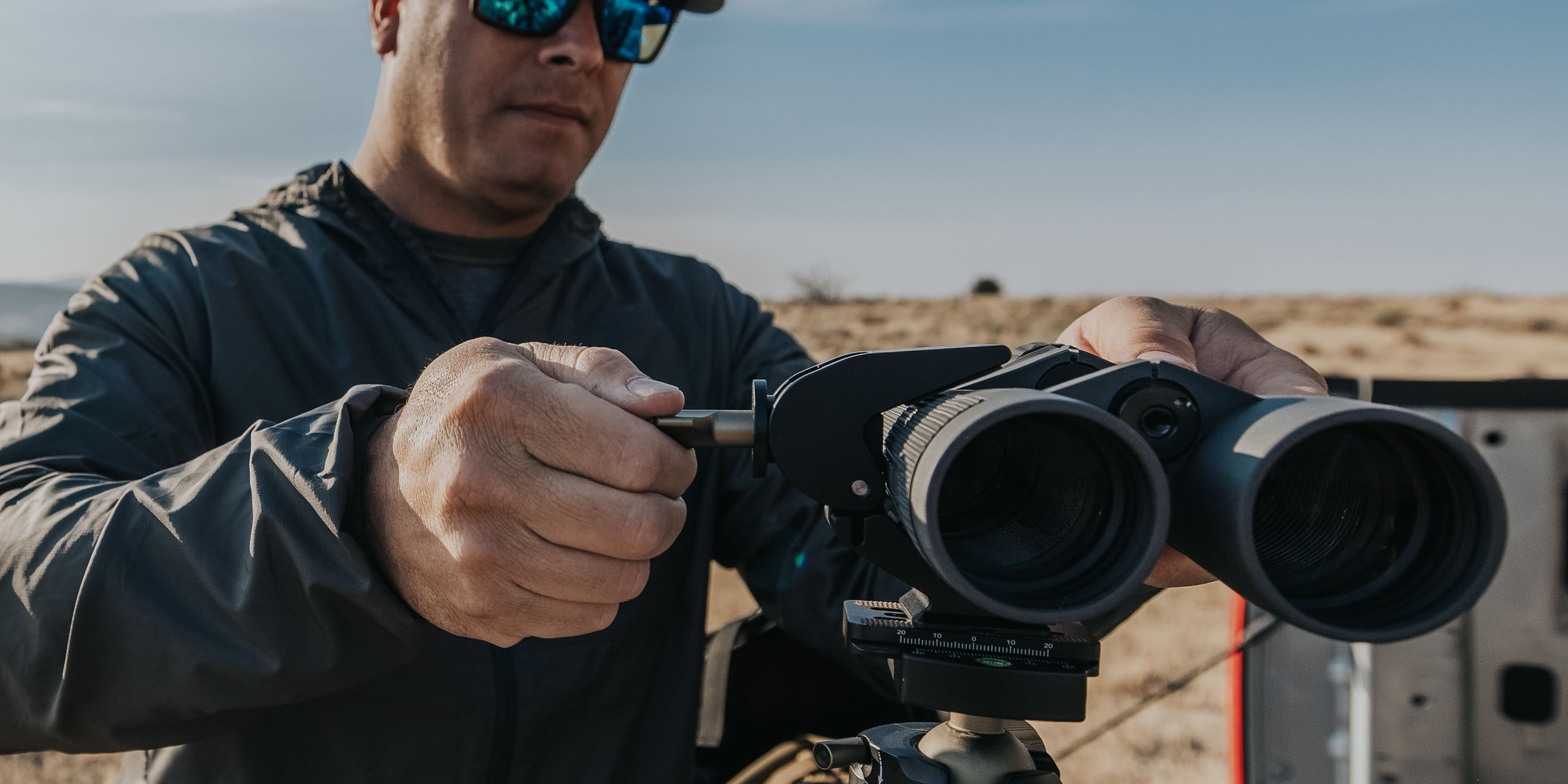 FIELD CLAMP BINOCULAR TRIPOD ADAPTER
Enter Leupold's new-for-2022 Field Clamp Binocular Tripod Adapter. This innovation is an excellent addition for hunters who spend lots of time behind the glass. It's lightweight, bulletproof, and attachment to my Leupold Alpine Tripod took seconds.
My favorite feature about the adapter is the quick clamp with non-marring rubber pads. Once the unit is attached to your spotter, turn the sizeable Leupold gold wing-nut-shaped knob counterclockwise to open the top jaw on this clamp. The bottom jaw remains static; a great design and fewer working parts mean a reduced chance that something can go wrong.
The turn knob is quiet and buttery smooth, and once you create an opening large enough to fit one side of your binocular housing inside the clamp, turn the knob clockwise and close it down. You don't have to be Superman when cranking the knob down. The rubberized pads suck to Leupold's gridded, ergonomic bino body like glue. Once the binos are attached, the rest is cream cheese. You can sit and glass for hours, and if you need to grab your binos and go, detachment is quick and easy, or you can opt to leave the binoculars attached to the tripod. The Swiss compatible base provides plenty of adapter-to-tripod attachment options. The Field Clamp Binocular Tripod Adaptor is constructed from high-grade aluminum and pushes the scale to 7 ounces.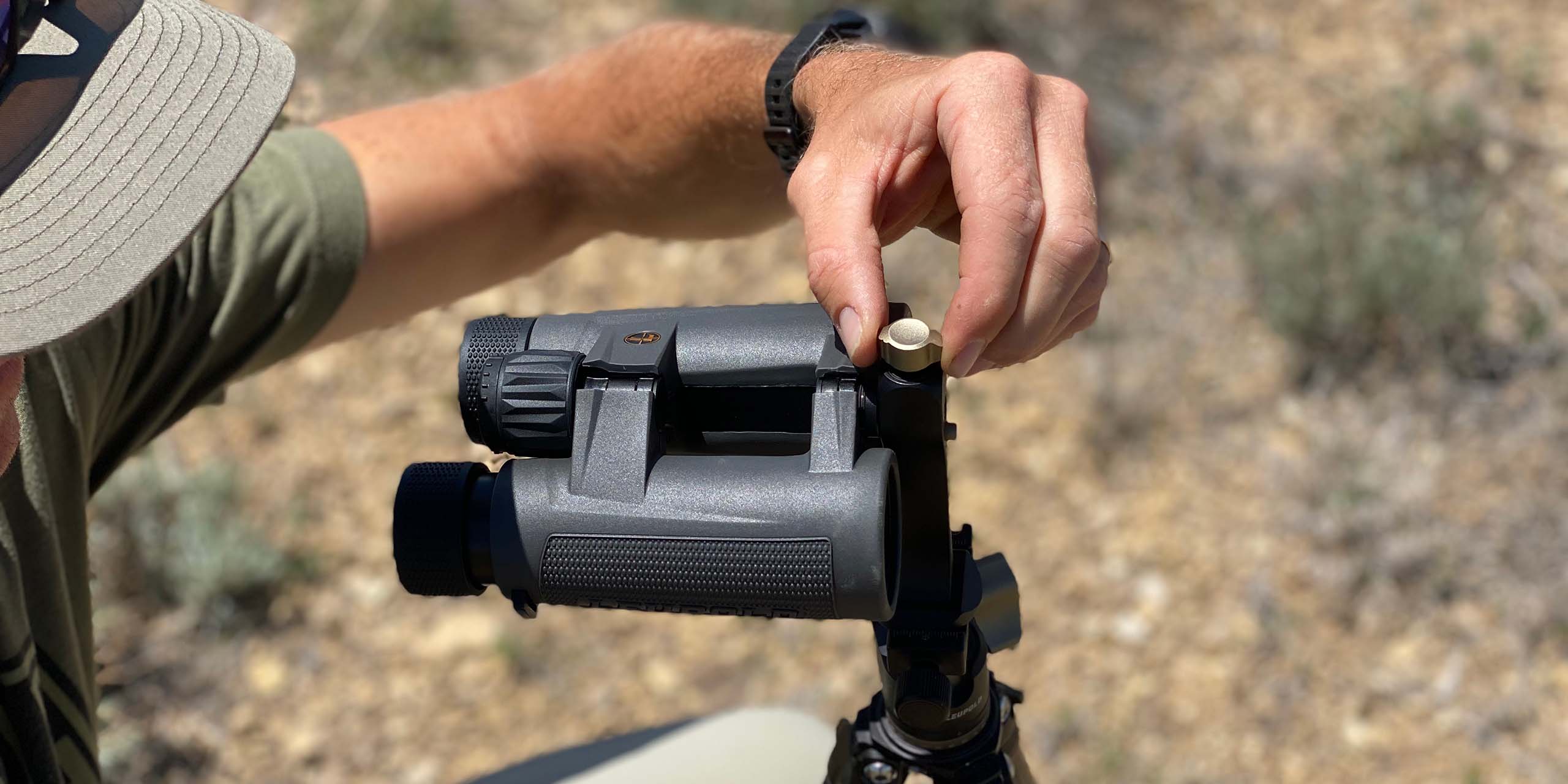 QUICK-STEM BINOCULAR TRIPOD ADAPTER
Another bino adapting win from the minds at Leupold is the Quick-Stem Binocular Tripod Adapter. Unlike the Field Clamp, the Quick-Stem attaches to the binoculars by removing the screw thread adapter on the front pivot point of the binocular. This adapter point is labeled with Leupold's legendary logo on Leupold binos. Attachment is as simple as unscrewing the cap (counterclockwise turn) from the binos. Take your aluminum Quick-Stem attachment, turn the top gold knob counterclockwise a couple of turns, press the "PUSH" labeled gold button, and pull the threaded stem-to-bino adapter out. Lastly, thread your binos into the adaptor and place the attachment back in the hole of the Quick-Stem Adaptor. Turn the top gold knob clockwise to lock the binos in place, and you're ready to glass hands-free. This high-grade aluminum adaptor features Arca-Swiss plate compatibility and weighs just 2.8 ounces.
I will never hit the western woods again — scouting or hunting — without a bino-adapter system. From pronghorn on the plains to elk and sheep in the Rockies, this dynamic duo from Leupold will serve you well. Make your shots count and be relentless.
BEST SELLING BINO ACCESSORIES
---

---
Leupold binoculars are designed to help you see more in a variety of situations, but it can be hard knowing which binocular is right for you. Find out how to choose the right binocular for you.
Leupold's carbon-fiber tripods are designed to help you do more in a variety of situations, but it can be hard knowing which is right for you. Find out how to choose the right tripod for you.