---
A quality tripod is an essential piece of gear that can assist you in a variety of scenarios. Top it with binoculars or a spotting scope for rock-solid clarity while glassing distant canyons, anchor against it for shooting support, or even throw a tarp on it to create a shelter for you and your gear. At Leupold, we have three dependable carbon fiber tripods that offer ultimate performance both on a hunt or at the range. Get to know the differences between the Alpine, Pro Guide, and Mark 5 models and how to choose the tripod that is best for you.
BUILT FOR ANYTHING
---
Made from durable carbon fiber and aluminum components, all Leupold tripods are resistant to high winds and harsh weather even when their legs are fully extended. And each one comes with an Arca-Swiss compatible mounting system that provides maximum cross-platform versatility. They also each have an aluminum ball head for smooth and precise adjustments.
All of our carbon-fiber tripods are connected with 3-angle pivot locks, which allow them to extend wider and lower to accommodate numerous heights and viewing angles. The tactile twist-and-lock leg segments are fast and easy to use, and their rubber feet keep everything steady on slick surfaces. Lastly, all three have some version of a counterweight hook that gives you the option to add weight for extra stability.
BREAKDOWN BY SERIES
---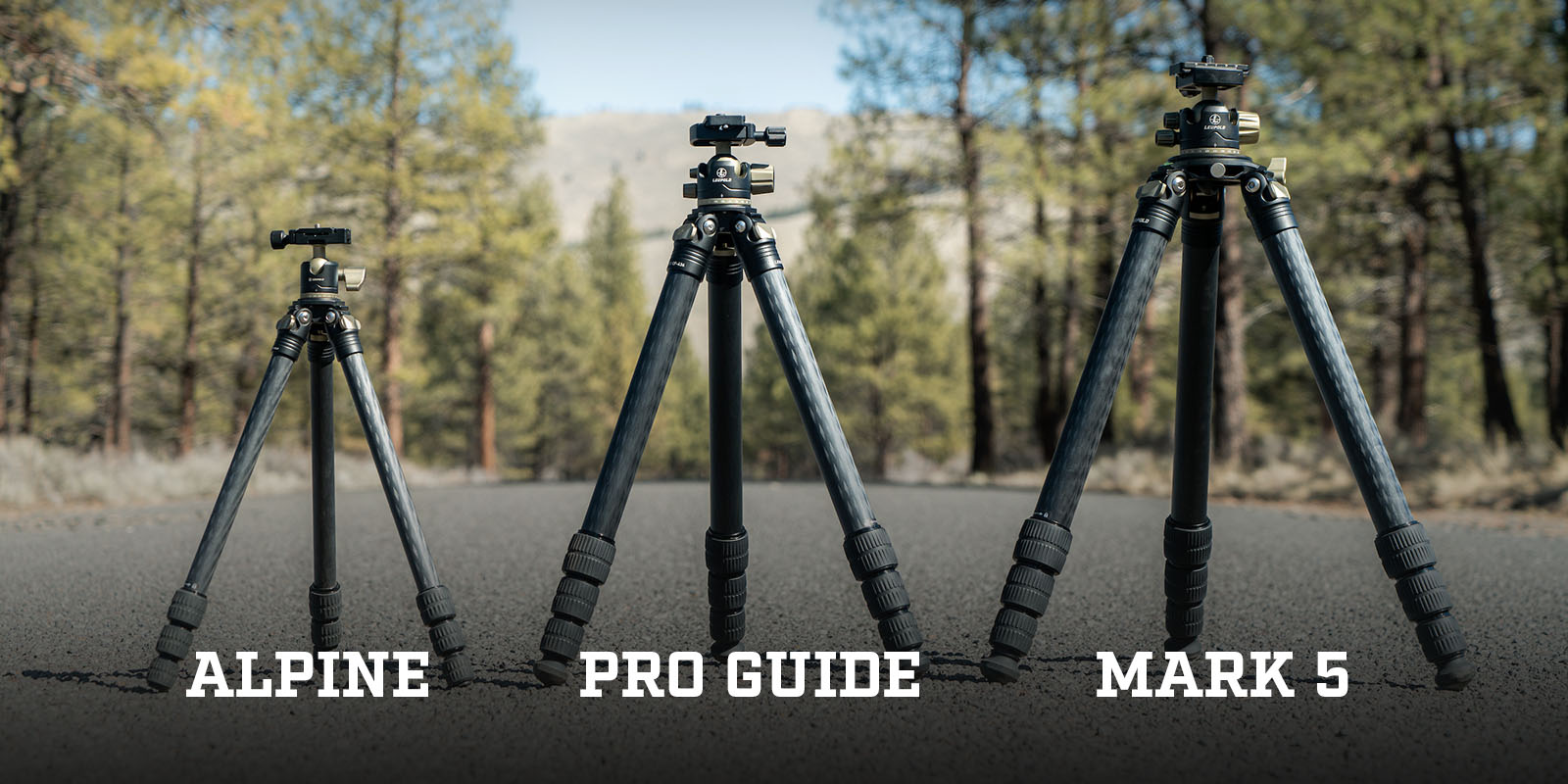 Leupold tripods are broken down by series, with each series providing the most rugged, dependable tripod in its class. No matter what your needs or your budget, we have a tripod for you.
ALPINE CF-425
At a mere 2 pounds, the compact, lightweight Alpine is an ideal size for shooters on the go. Keep one in your range bag or the back seat of your truck, and you'll never be without a stable platform. But don't let its collapsed size of 18.5 inches fool you. When completely opened and the included extension post is attached, the Alpine rises to a full 58 inches for stand-up glassing. And if you open the pivot locks on the leg joints and widen it all the way out, you can get as low as 5 inches to the ground.
WEIGHS: 2 pounds
SUPPORTS: Up to 13 pounds
COLLAPSED: 18.5 inches
EXTENDS TO: 58 inches
LOWERS TO: 5 inches
PRO GUIDE CF-436
The Pro Guide is the Jack of all trades. Weighing 4 pounds, it's capable of holding 40 pounds collapsable down to a length of 18.5 inches. With the included extension post attached, it can reach a maximum height of 67 inches, making it tall enough for just about anyone. If you utilize the pivot locks, you can lower it to 6.7 inches. The Pro guide will steady your gear whether you're out hunting or setting up at the range. Its Arca-Swiss compatible clamp has a built-in bubble level to keep your spotter straight when you're glassing on an angle.
WEIGHS: 4 pounds
SUPPORTS: Up to 40 pounds
COLLAPSED: 18.5 inches
EXTENDS TO: 67 inches
LOWERS TO: 6.7 inches
MARK 5 CF-455
Our Mark 5 Tripod was built to outperform and outlast the competition. Weighing in at 7.3 pounds, this tripod can stabilize an incredible 55 pounds worth of gear, and fold down to a respectable 29 inches. Standing 74 inches tall when fully extended and only 8.3 inches when the legs are collapsed, it has the broadest height range out of all our tripods. It also includes a bubble level on its Arca-Swiss compatible clamp and a secondary one on its apex platform. If you're a taller hunter or shooter, this tripod is for you.
WEIGHS: 7.3 pounds
SUPPORTS: Up to 55 pounds
COLLAPSED: 29 inches
EXTENDS TO: 74 inches
LOWERS TO: 8.3 inches