---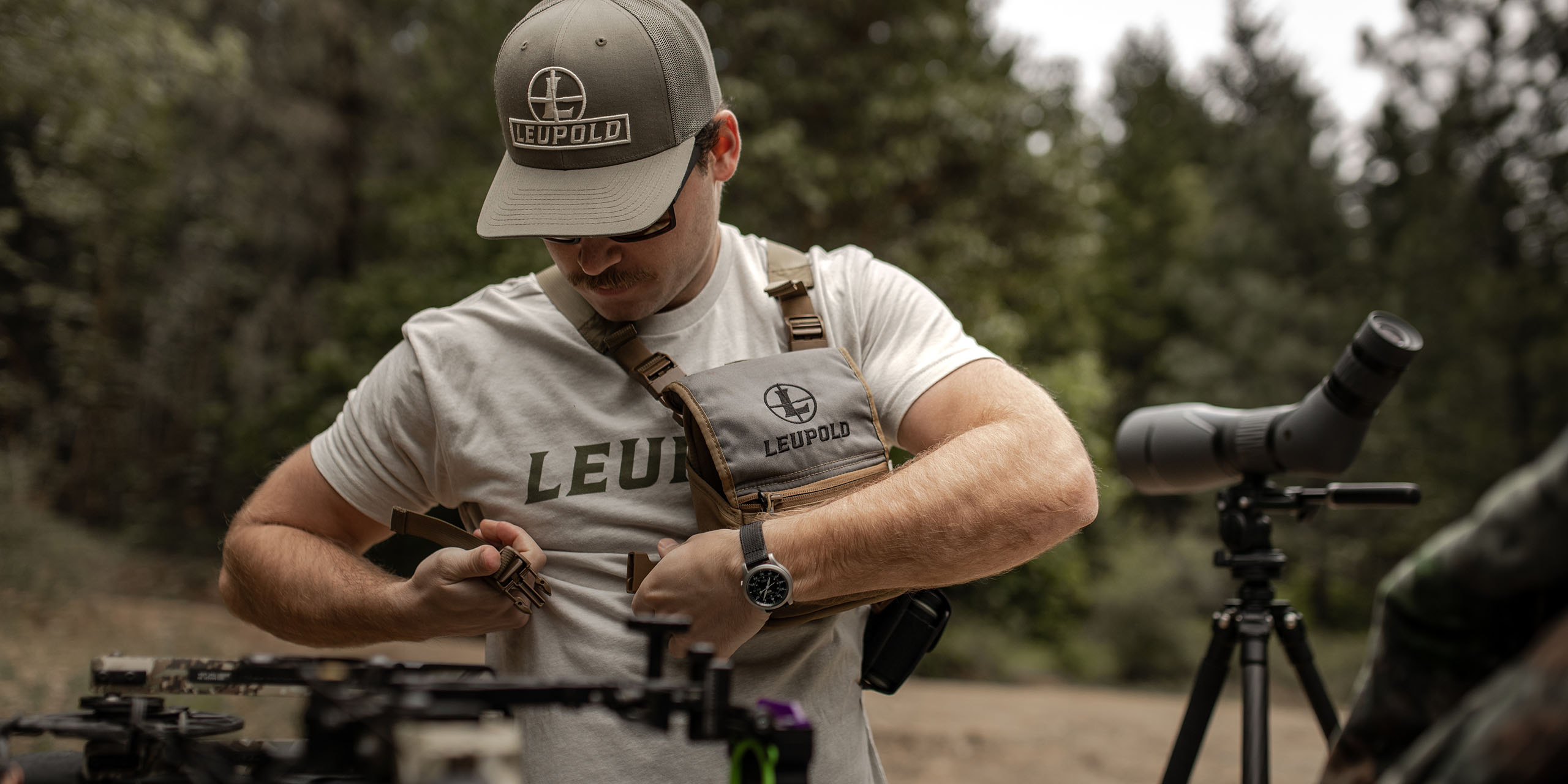 Over the years I've learned there are two types of gear: purposeful and snake oil. Stay away from snake oil and cling to purposeful builds that are functional, durable, and capable of boosting your success — items like Leupold's Pro Guide Binocular Harness 2 and Pro Guide Rangefinder Pouch.
The way we tote our binos has evolved dramatically over the past three decades. When I first started hunting at 10, my binoculars swung on a single strap around my neck. I remember tucking them inside my coat and holding them down with my free hand when covering the country. It was a terrible system.
Things got better. Manufacturers started producing nylon chest straps that anchored binoculars via a pair of loops or hooks that attached to the left and right tubes. With two points of contact and a chest-harness system, traversing terrain while wearing glass got much easier. Still, problems arose. The binoculars were constantly exposed to the elements, and eyecups would fill with dirt, grass, pine needles, etc. Another problem was the elasticity of the nylon. It worked great for a while, but it was inevitable that binos that once clung to the chest area eventually hung down around the belly after a season or two.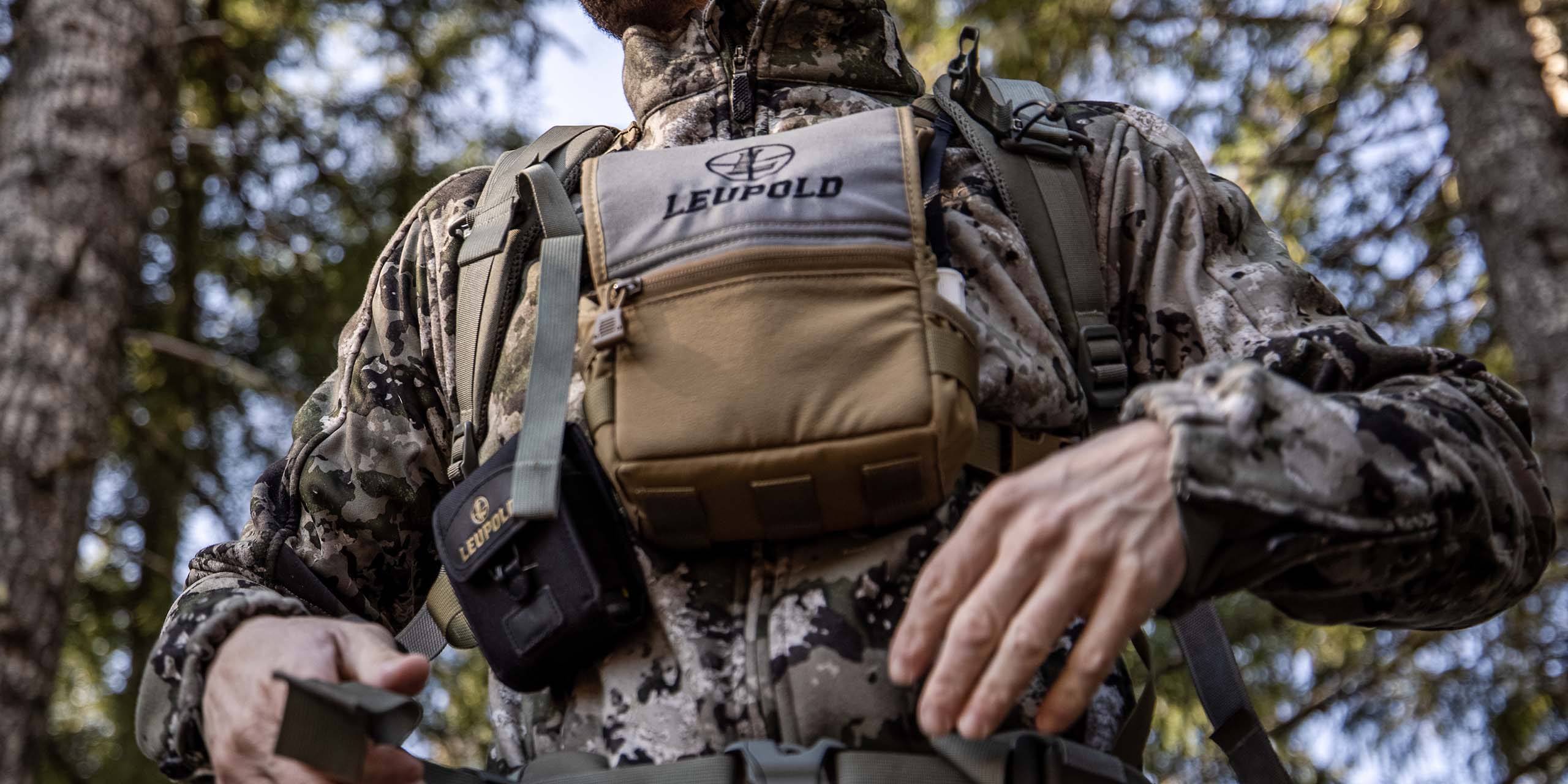 PRO GUIDE BINOCULAR HARNESS 2
Today, all bino-tote problems have been solved thanks to innovative bino harnesses like Leupold's Pro Guide Binocular Harness 2. Systems like this keep your pricey glass in a padded compartment lined with soft fleece, and access to the case takes only a flip of the wrist. A trio of no-noise magnets line the flap and back panel, which keep the binoculars safely inside, and accessing them takes zero effort. The front flap drops down and out of the way when opened, making your glass easily accessible. One-handed operation is all that's required, and the mesh straps and back panel, which is also a pocket, promise ventilation and comfort.
The harness is a breeze to adjust, and obtaining a just-right chest and back fit takes seconds. Plus, you'll love the purposeful elastic side pockets, which are great for wind checker powder or a cleaning brush. If you're an archer and shoot a hand-held release, these pockets hold them perfectly too. Another win of the bino system is the front zippered elastic pocket. This is my go-to pocket for ear plugs, hex wrenches, a lighter, and other necessary gear.
The best news, though, is we're far from done. Bowhunters and rifle hunters alike have struggled for ways to tote their rangefinder. During my tenure in the woods, I've tried everything from a nylon lanyard crafted by my daughter to manufactured models to jerry-rigged home projects.
PRO GUIDE RANGEFINDER POUCH
Enter Leupold's Pro Guide Rangefinder Pouch. This rangefinder pouch is bulletproof and the perfect accessory for your Pro Guide Harness 2. It utilizes the same silent magnet system as the bino harness too. Pouch attachment is easy, and you can place it on the left or right of the lower bino straps just in front of either female buckle. The pouch has an open-loop design on the back so you can slide the bino harness straps through, or you can unbuckle the open-loop on the pouch and attach it that way.
When opened, the flap attaches to another magnet in the lower pouch, which means there is no interference with the flap when you need to get to your rangefinder. I've used other rangefinder pouches, and this feature is second to none. Why? The last thing you want when things are getting serious and the moment of truth is upon you is to be fighting your rangefinder pouch and fumbling to free your rangefinder. The Pro Guide Rangefinder Pouch is roomy and will fit all current Leupold rangefinder models. Like the bino harness, the inside is a fleece-lined pillow for your pricy electronic measurement device.
A hunter I respect greatly and who has taught me how to be successful in the woods once told me, "The key to repeated success is to develop a system for everything — a system you can count on — one that won't fail you." I've found this in Leupold's optic containment devices, and if you give them a go, you'll feel the same.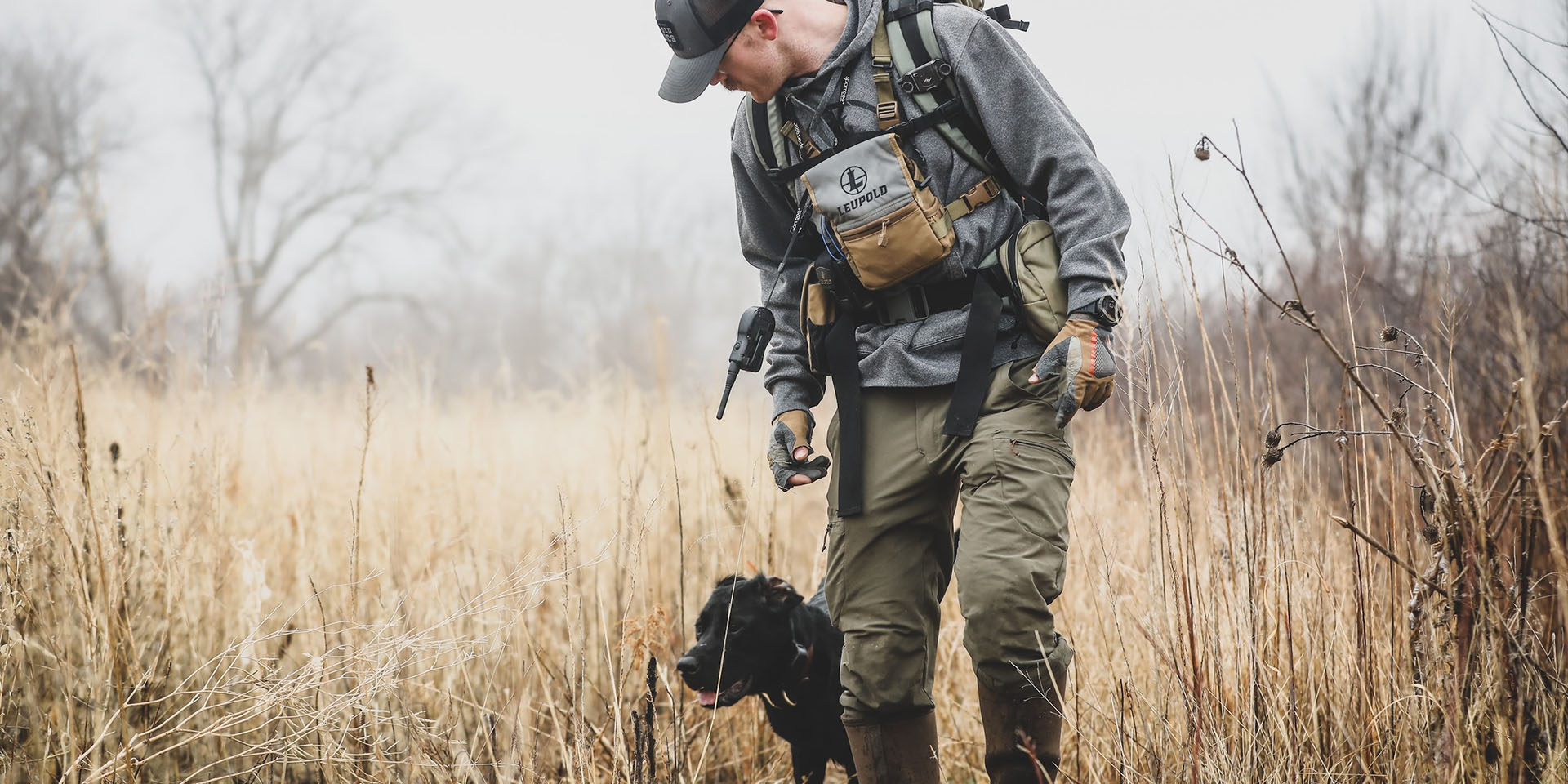 BEST SELLING BINO ACCESSORIES
---
---
Leupold binoculars are designed to help you see more in a variety of situations, but it can be hard knowing which binocular is right for you. Find out how to choose the right binocular for you.
Leupold's carbon-fiber tripods are designed to help you do more in a variety of situations, but it can be hard knowing which is right for you. Find out how to choose the right tripod for you.