---
Allow us to introduce you to a real crowd pleaser and easy-to-pull-off appetizer for your next basecamp hunt: Campfire Nachos. Your hunting crew won't believe their eyes when you whip these up on your next hunt. The hardest part of pulling off nachos in hunting camp is baking the nachos to get that gooey, stringy cheese that everyone loves. By using a cast iron combo cooker, you are able to use the hot lid to help radiate heat down onto the nachos. The key to this process is to only cover the nachos ¾ of the way to allow moisture to escape as they bake. This recipe used ground moose, but ground game meat from any hoofed animal will work.
Ingredients:
---
Moose and Bean Mix
2 Tbsp Oil
1 lb Ground moose
1 Tsp Seasoning salt
1 Tbsp Chili powder
1½ Cups Enchilada sauce
½ Cup Canned black beans
Other
1 bag Corn tortilla chips
1½ Cups Nacho cheese mix
½ Cup Sour cream
1 Diced tomato
½ Cup Pickled jalapeños
¼ Cup Chopped cilantro
1 Diced avocado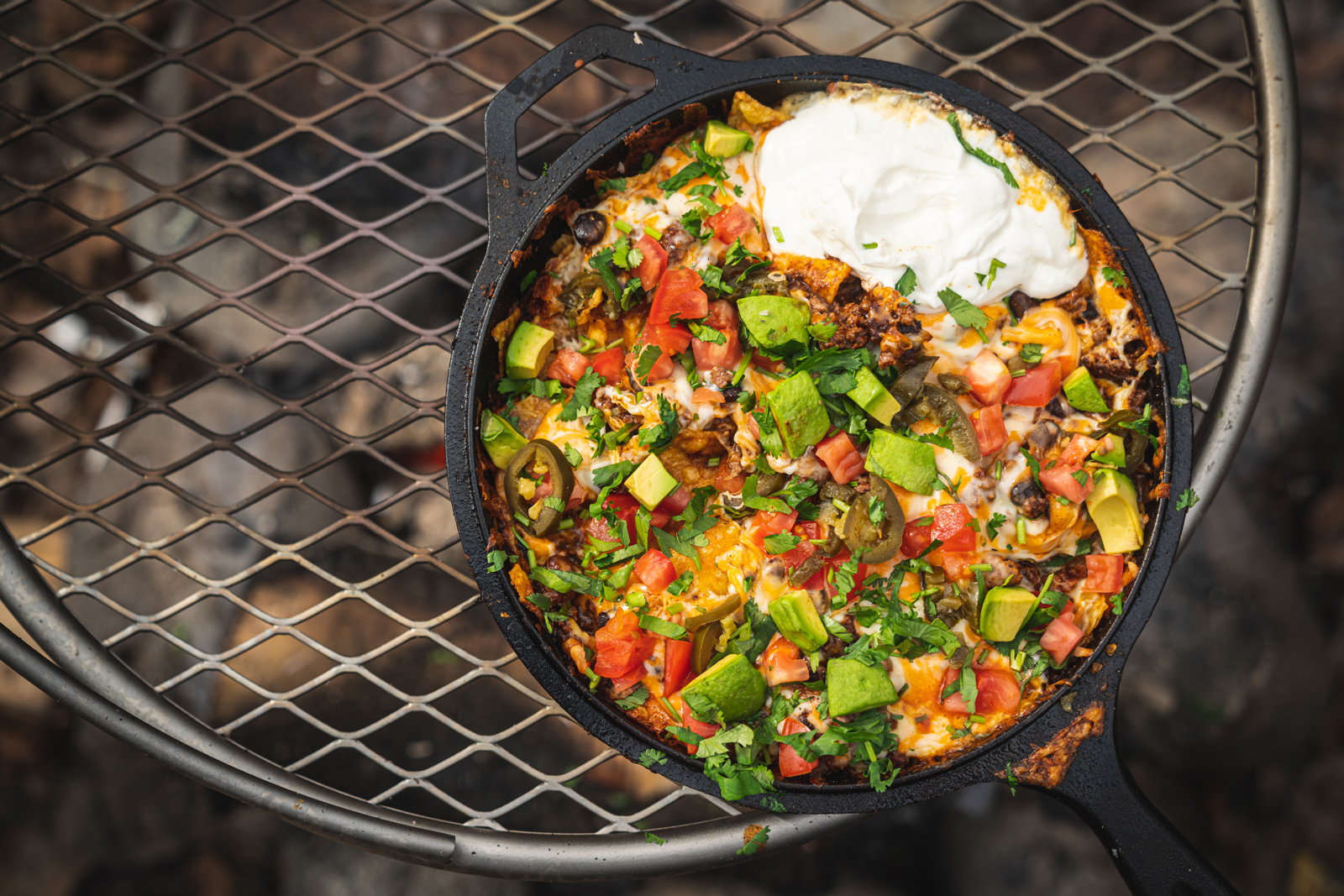 Step-By-Step Instructions:
---
Heat the base of a cast iron double cooker over high heat and add the oil.
Pre-heat the lid to get it very hot.
Add the ground moose, season with seasoning salt and chili powder, and cook over high heat until browned.
Stir in the enchilada sauce and beans and simmer for 5 minutes.
Remove the meat and bean mixture from the pan and set aside.
Pile a layer of tortilla chips into the cast iron cooker and distribute half the meat and bean mixture and cheese over the top.
Repeat the layering with the rest of the chips, meat and bean mix, and cheese.
Cover the nachos 3/4 of the way with the pre-heated lid and bake for 5-8 minutes or until the cheese is melty and bubbling. Rotate the lid as needed to melt the cheese evenly.
Pile the sour cream on one side of the nachos and scatter the rest of the ingredients over the top.
---
12" Tortilla
Cooked turkey sausage
Queso tostada
Egg
Bacon
Queso tostada
Sour cream
Cilantro
Lettuce
Tomato
6" Flour tortilla