---
When you need to know the exact distance to a target, you want to have a quality rangefinder within reach. But with more and more models entering the market, it can be tough to pinpoint which laser rangefinder is worth the buy. Here's a quick guide to help you choose the right Leupold rangefinder for you:
UNDERSTANDING THE NUMBERS: REFLECTIVE VS SOFT TARGETS
---
It makes sense that a lot of brands market their rangefinders based on their ranging distances. But what's not so obvious is the type of surface they're using to get those readings. Reflective objects like metal signs allow a rangefinder's laser to bounce back with way more strength, unlike typical soft and dark objects that absorb light. Most companies often highlight their ranging capabilities off these reflective metal targets. If you're a target shooter, metal targets such as steel plates are common. But if you're a hunter, you'll be typically ranging soft targets such as animals and trees. To avoid choosing the wrong product, you should always compare the ranging distances associated with the type of targets that matter most to you.
At Leupold, we show you three numbers for each of our rangefinders that indicate the maximum ranging distance of different objects—deer, trees, and reflective targets—so you can accurately choose the right rangefinder for you.
DIFFERENT MODES = DIFFERENT CALCULATIONS
---
Every situation calls for a different mode to get an accurate range distance. But not all calculation modes are available for every rangefinder, making them another good comparison point when you're flipping through your options. Before you settle on a rangefinder, consider what kind of functionality you need for your situation, then go from there.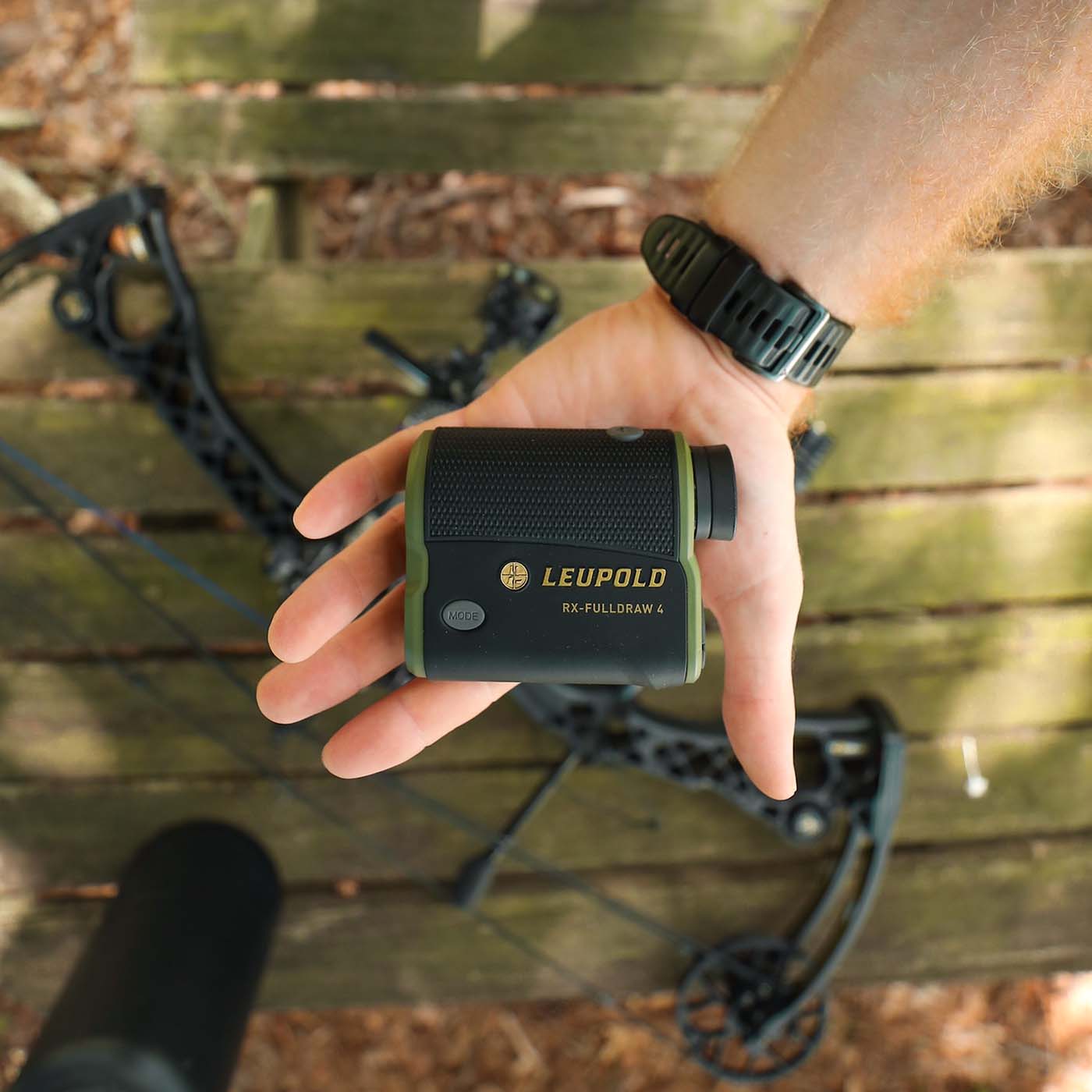 LINE OF SIGHT - LOS, or Line-of-Sight mode, calculates the distance to a target in a straight line regardless of incline or decline. A simple mode like this is perfect for getting quick distance measurements on flat, even terrain.
TRIGONOMETRY - TRIG mode displays more accurate ranges by using trigonometry equations with input from the line-of-sight and angle readings. This mode is the range-finding equivalent of the rifleman's rule, an old standby method for figuring out true vertical and horizontal distance.
TRUE BALLISTIC RANGE/WIND - TBR/W mode was developed for riflemen. It offers 25 selectable ballistic groups that account for over 650 cartridges. Just select the group that matches your bullet weight and muzzle velocity, and your rangefinder will display dead-on shoot-to distances that are accurate out to 800 yards. It can also calculate 10-mph wind holds.
BALLISTIC - BALL is the TBR/W equivalent for archery. It features Archer's Advantage™ software, which uses your arrow weight, velocity, and your peep height to calculate extremely accurate ballistic solutions for your exact setup. It's especially helpful for close, steep shots.
BOW - BOW mode is also designed for archers, but does not take into account your exact archery ballistics like BALL. But just like Trig, it calculates angle compensated ranges out to 175 yards. The range of anything beyond that will be displayed in LOS, letting you know how much distance you'll need to close before you can seal the deal.
RANGEFINDER SERIES BREAKDOWN
---
You've done your homework, and now you know the modes you may need. All that's left is to decide whether you're a rifleman, an archer, or both. If you've already made up your mind about which category you fall into, scroll down to see the rangefinders that best suit your needs. You'll get a top-of-the-line ranging device no matter which model you choose.
RX-2800 TBR/W
Long-range shooting will test your limits with every shot, which is where the RX®-2800 TBR®/W Alpha IQ™ digital rangefinder comes in. With half-yard accuracy out to 2,800 yards, 7x magnification, and an easy-to-read red OLED display, this lightning-quick rangefinder is guaranteed to stretch your skills.
RX-1600i TBR/W
This rangefinder is the jack of all trades; it's versatile, accurate, rugged, and dependable. Whether you're dinging steel at incredible distances, tracking down that trophy of a lifetime, or sitting in a tree stand with your bow and arrows, the RX®-1600i TBR®/W won't let you down. It features an extremely durable aluminum body, 6x magnification, and a red OLED display, so you can quickly get a reading the moment your target appears.
RX-1500i TBR/W
Know the shoot-to distance of your next shot with the RX®-1500i TBR®/W rangefinder. Loaded with the features that professional hunters and shooters demand, this rangefinder eliminates guesswork with the push of a button. And if antler size really matters, you'll love its Trophy Scale™ feature. Just preset the scale to your desired measurement and this rangefinder's black LCD with 6x magnification will give you a set of brackets to reference on the fly.
RX-1400 TBR/W GEN 2
The RX®-1400i TBR®/W Gen 2 enters the market as the most versatile, feature-rich rangefinder in its class. Loaded with features including Flightpath Technology, it boasts our proprietary ranging engine, three different modes, a rugged polymer body, 5x magnification,and an exceptionally bright red TOLED display, the RX-1400i TBR/W Gen 2 will take your hunting and shooting to the next level.
RX-FULLDRAW 5
The RX®-FullDraw® 5 is designed for the modern archer. Using Archer's Advantage software and Flightpath technology, this ballistically advanced rangefinder shows you potential arrow obstructions out to a typical distance of 85 yards. Pair that with its 6x magnification, bright red OLED display, and incredibly fast laser engine, and you'll see why everyone is raving about the RX-FullDraw 5.