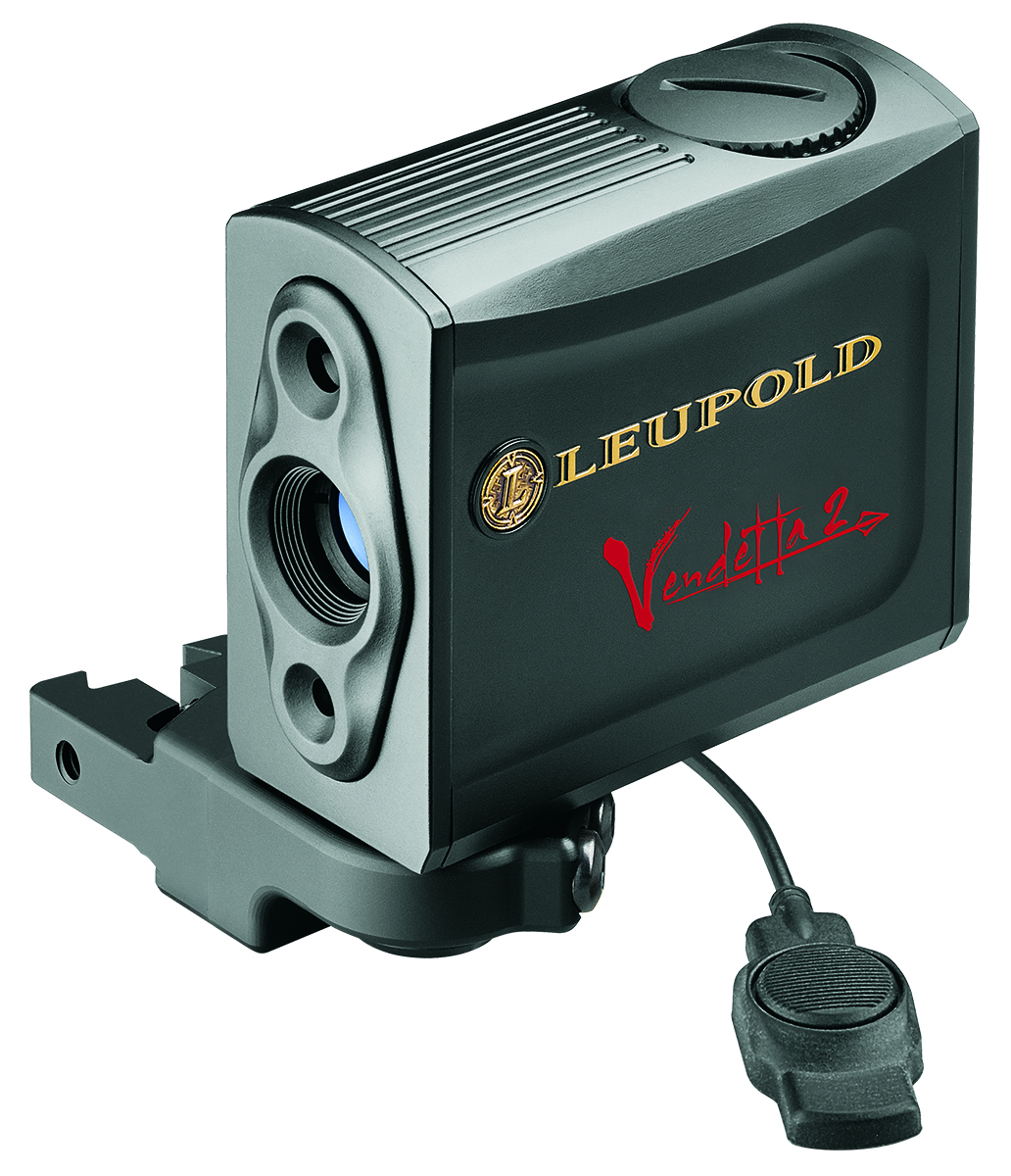 BEAVERTON, Ore. — Leupold & Stevens, Inc., revolutionized archery hunting with the introduction of its innovative Vendetta® bow-mounted laser rangefinder. Now the updated Leupold® Vendetta 2 adds to the innovation with a faster software package, an improved mounting system and the ability to use it on a crossbow.
Squeezing the pressure pad switch attached to the bow's grip, hunters can instantly range a target from full draw, eliminating unnecessary motion and maintaining stealth. Leupold's built-in True Ballistic Range® (TBR®) calculator automatically compensates for the shot angle, delivering the correct incline-adjusted range instantly.
"Bowhunters understand they may only get one shot on that trophy animal. Noise and movement can turn the shot of a lifetime into a story of 'the one that got away,'" said Tim Lesser, vice president of product development for Leupold & Stevens, Inc. "With Vendetta 2, hunters can instantly know the proper range and accurately deliver the shot without any excessive movement."
Vendetta 2 features the latest generation of Leupold range-finding software, offering near instantaneous ranging with incredible accuracy. Once activated from its sleep mode, the Vendetta 2 provides 45 seconds of auto scan ranging, which eliminates the need to continuously press and hold the activation pad. This means hunters can keep a shooting grip on the bow and reduce their movement.
The new bow-mounted rangefinder features easy to use X- and Y-axis adjustments, making sighting-in fast and easy. A built-in visible laser simplifies the initial set up and alignment with the bow's sights. Vendetta 2 can be mounted in any position on the bow, making it a great choice for right- or left-handers, on any model of bow.
A new one-inch scope mount allows the Vendetta 2 to mount on crossbows, allowing this growing segment of archery hunters to benefit from this instant ranging technology.
Vendetta 2 is currently legal to use for hunters in 34 states and recreational legal in all states.
This durable, compact laser rangefinder features a bright, crisp LED display, and is built with Leupold's legendary ruggedness. No matter the hunting conditions, Vendetta 2 is ready to deliver the accurate shot.