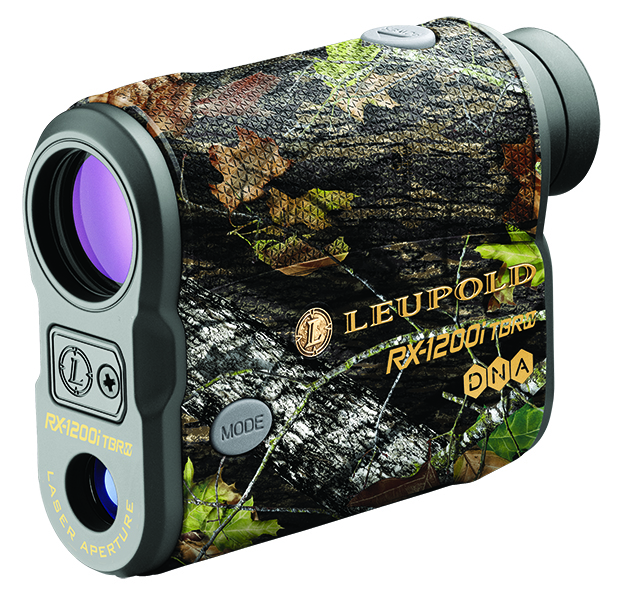 BEAVERTON, Ore. — Leupold & Stevens, Inc., introduces the RX®-1200i TBR/W with DNA® laser rangefinder, combining the legendary Leupold® accuracy with precise wind holds based on ballistics and range.
Built on the tested and proven True Ballistic Range® (TBR®) technology, the new TBR/W automatically calculates a wind hold value for a 10 mph wind, at a 90-degree angle (full value) to the shooter. The corrected hold is then displayed in MOA, Mils or inches/centimeters.
Designed to pair with Leupold's exclusive ballistics reticles, shooters gain wind hold accuracy, even at extreme long range, with no additional wind gauges or electronics.
"True Ballistic Range/Wind (TBR/W) brings a greater degree of accuracy for hunters and shooters in the field," said Tim Lesser, vice president of product development for Leupold & Stevens, Inc. "The original TBR system solved for proper elevation adjustments, now we've eliminated the uncertainty of windage as well."
Leupold's TBR calculates the incline to the target, and calibrates the true range based on the ballistics of the cartridge. The display shows the shooter the correct equivalent distance, so they can dial in their riflescope for pinpoint accuracy.
The RX-1200i TBR/W features a cutting-edge Organic Light Emitting Diode (OLED) display, which delivers enhanced light and resolution over liquid crystal displays (LCD). In low-light conditions, the RX-1200i's OLED provides up to 3 times greater light transmission, outperforming LCDs at first or last light.
Leupold has also enhanced the accuracy of the TBR system with the expansion of its internal ballistics groups from seven to 25. This expansion allows shooters to select their calibers from a very narrow set of calibers in each group. This more tightly defined grouping leads to even greater holdovers in inches, MOA or mils at longer ranges. The ballistics database has also been expanded to cover almost any caliber imaginable for ranges out past 400 yards.
Featuring 6X magnification, the RX-1200i TBR/W with DNA provides plenty of optical power, while still maintaining a wide field of view. A continuous scan mode allows users to see instantly updated ranging information. Users can select between three reticle options. The Plus Point™ reticle works best with smaller or distant targets, while the Duplex® works great on larger game. The Duplex with Plus Point offers the best of both in a single reticle.
Tough and rugged, the RX-1200i TBR/W has a durable machined aluminum body and frame, and is completely waterproof and fog proof. It is available in black/gray, Mossy Oak® Break-Up® Infinity™ and Mossy Oak Blaze Orange.
Hunters can leave nothing to chance with the RX-1200i TBR/W with DNA. From dead-on range, to incline-adjusted true ranging to precise wind holds, the RX-1200i TBR/W will make sure your once-in-a-lifetime shot is right on the money.
The RX-1200i TBR/W with DNA is covered under Leupold's Gold Ring™ Electronics Warranty and built Leupold tough.