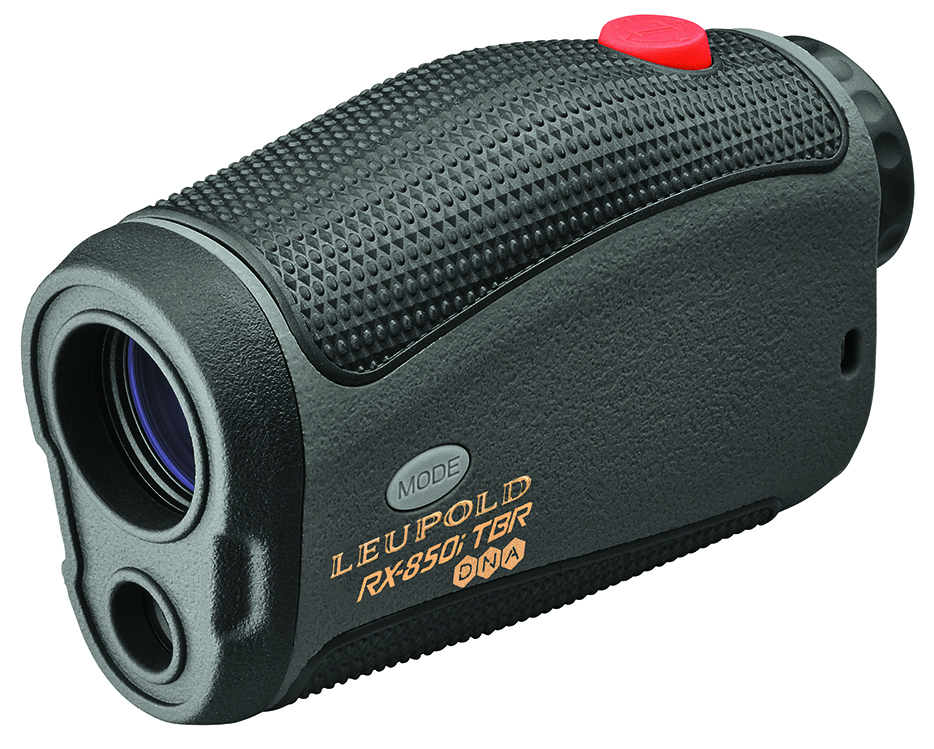 BEAVERTON, Ore. — Leupold & Stevens, Inc., introduces the RX®-850i TBR® with DNA® laser rangefinder, adding a faster engine and Trophy Scale™ measurements to a smaller, ergonomic design.
With accurate ranging out to 850 yards, the RX-850i TBR with DNA puts rifle and archery hunters on target with pinpoint accuracy, at any angle. Exclusive Leupold True Ballistic Range® (TBR) compensates for up slopes and downhill shots, delivering the true range, based on ballistics or bow speed.
Compact and weighing in at a scant 6.8 ounces, the RX-850i TBR is the perfect rangefinder for any hunt, any pack and any condition.
"Accurate range is the key to making a precise shot, be it with a rifle or a bow," said Tim Lesser, vice president of product development for Leupold & Stevens, Inc. "Thanks to the RX-850i TBR's slim profile and weight, it's an indispensable tool for any hunter."
A new ergonomic shape is contoured to fit the hand, and has a rubberized grip for comfort and durability. Even in ice and snow, the RX-850i TBR offers a sure grip and a large control button is easy to use when wearing gloves.
Exclusive Trophy Scale helps hunters judge the size of their target before making the shot. Once a baseline measurement has been entered, the Trophy Scale bracketing system automatically adjusts to changing distances and offers measuring marks on the display. Simply line up the target with the measuring marks to gauge the width. Height can also be estimated by simply turning the unit on its side. Now hunters can decide whether or not to start a stalk on a game animal, or simply it let it go.
With 6X magnification, the RX-850i TBR balances enough optical power to magnify a target, but still maintains excellent field of view. Multicoated lenses and a high light transmission liquid crystal display (LCD) are optimized for low-light performance, critical in early morning or end-of-day situations.
Users can select between three reticle options. The Plus Point™ reticle works best with smaller or distant targets, while the Duplex® works great on larger game. The Duplex with Plus Point offers the best of both in a single reticle.
Completely waterproof and fog proof, the RX-850i TBR is covered under Leupold's Gold Ring™ Electronics Warranty and built Leupold tough.