---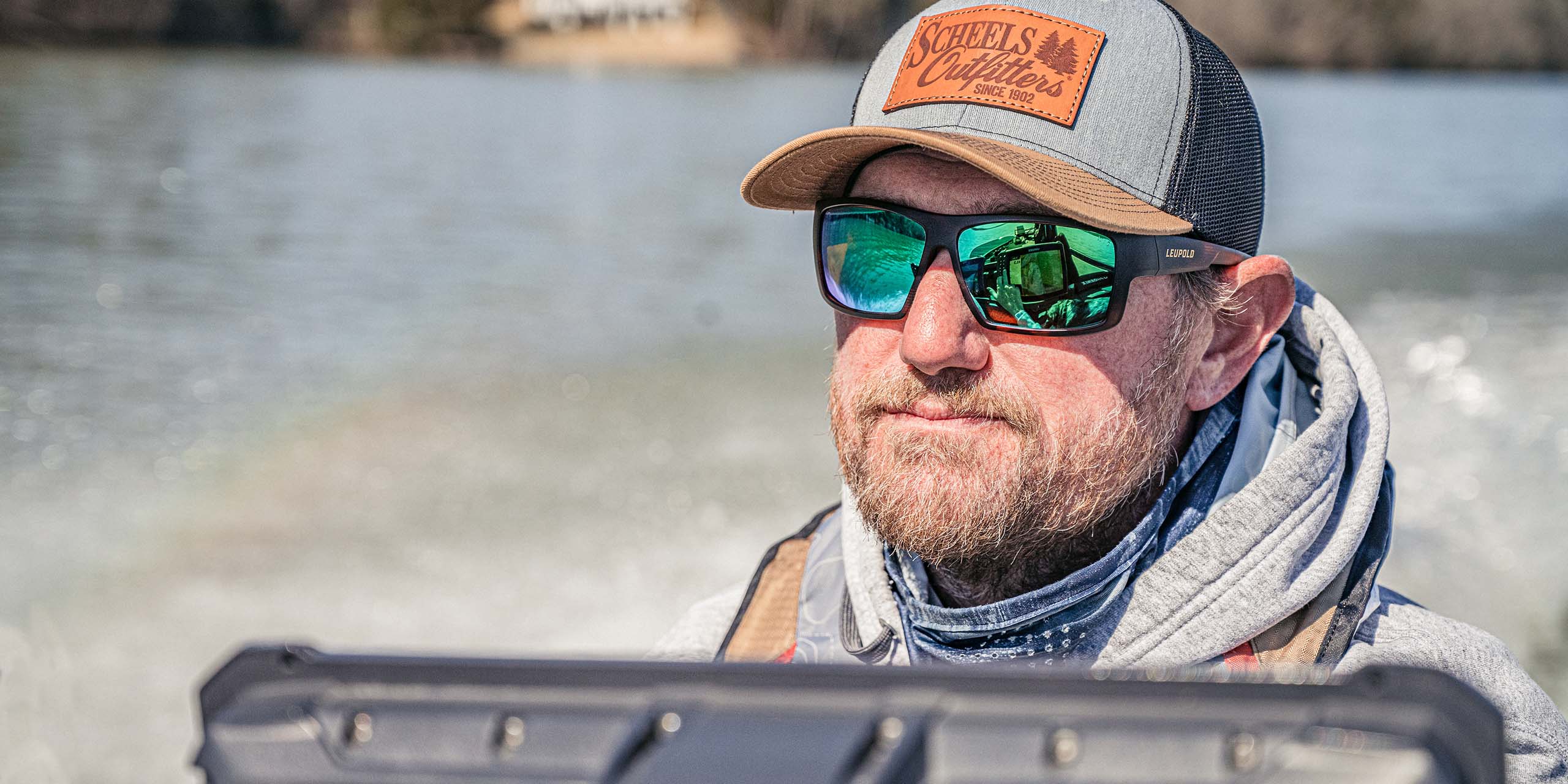 If you've ever demolished cheap sunglasses while deep sea fishing or biking in the mountains, you know that an active lifestyle demands tough gear. So next time you head outdoors, don't bother with the gas-station specials. You need Leupold Performance Eyewear to protect your eyes. Their shatterproof lenses, combined with the most resilient non-metal materials on the market, will stand up to ballistic impacts, extreme stress, and harsh weather. Here are the top three things to know about them:
1. THE GREATER THE CURVE, THE GREATER PROTECTION
Leupold Performance Eyewear falls into two categories: Lifestyle Performance and Sport Performance. The key difference between them is the base curve. All that means is the curvature of the lenses and how deeply the frames wrap isn't the same for every model. Lifestyle Performance Eyewear uses a flatter 6-base curve, while Sport Performance Eyewear gives you more coverage with an 8-base curve, wrapping farther around the sides of your face. The greater the curve, the greater protection you get from light and debris.
2. LENS COLOR MATTERS
There's more to picking a lens color than just aesthetics. Aside from directing style, each hue serves a practical purpose, and if you choose the right tint for your environment, you'll get performance-boosting perks like increased depth perception and reduced eye fatigue. Find out which lens color is right for you in our How to Choose a Lens Color article. It covers when, where, and in what lighting conditions each color works best.
3. POLARIZED TECHNOLOGY FILTERS LIGHT TO PROTECT YOUR EYES
Polarized lenses use a chemical to filter light, similar to how blinds work on a window. Only the rays that pass through the microscopic openings make it to your eyes. Our In-Fused Polarized Technology improves that light-blocking process by using advanced manufacturing techniques, embedding polarization film inside our lenses. This method provides permanent polarized protection that won't scratch or deteriorate over time.
---
Did you know that each lens color actually serves a practical purpose? By choosing the correct tint of lenses for the environment you're in, you'll gain benefits like increased depth perception and reduced eye fatigue. Discover which lenses might be right for you.
Randy Newberg is a die-hard hunter, a conservationist, and a voice for the DIY public land hunter in America. Here are some of his top recommendations for putting together your ultimate elk hunting gear list.