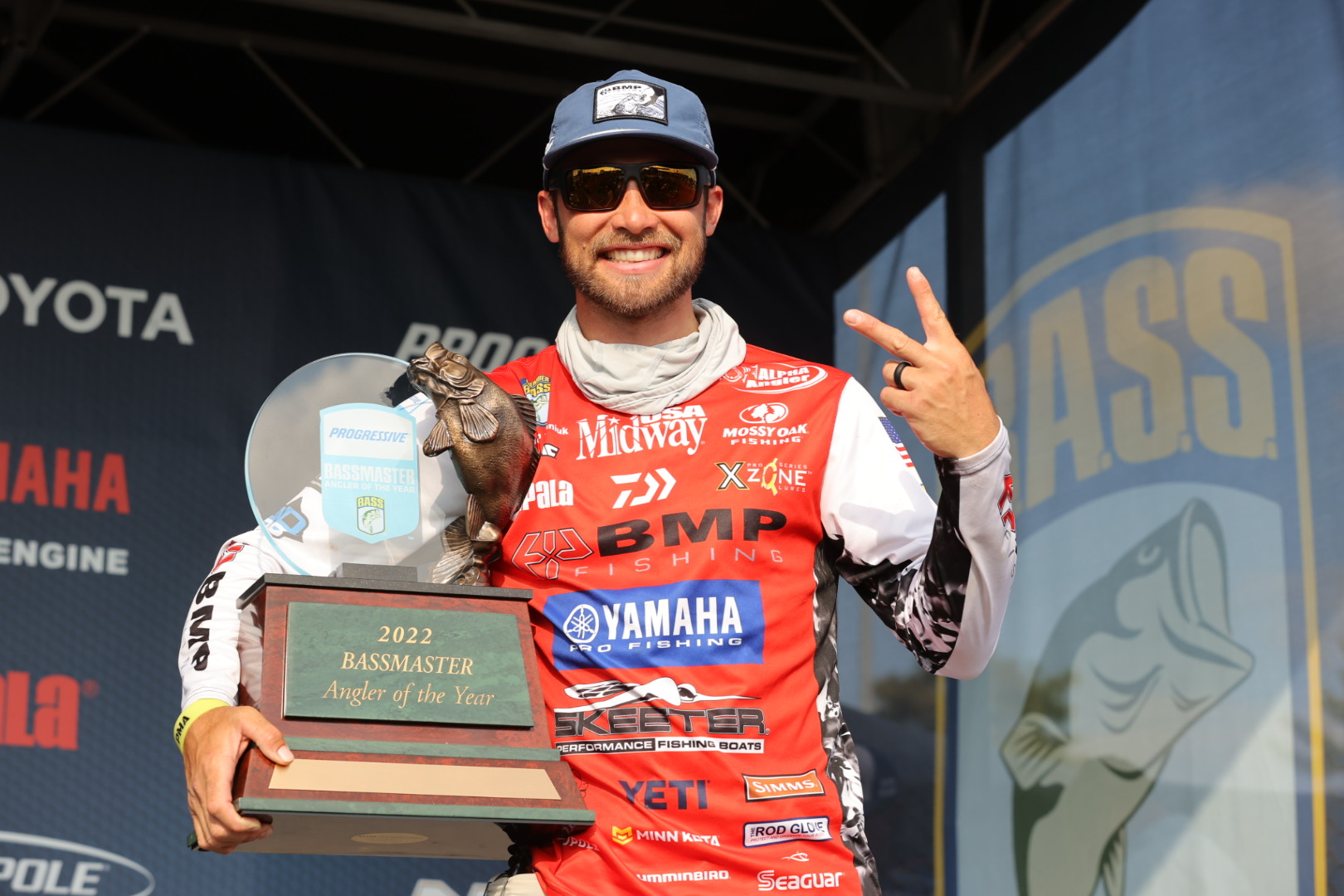 Leupold & Stevens, Inc., provider of the world's most rugged, lightweight, and clear sport optics, is pleased to announce that Leupold athlete Brandon Palaniuk has won the 2022 Progressive Insurance Bassmaster Angler of the Year trophy. Palaniuk secured the title–his second on the circuit–with his performance at this past weekend's Guaranteed Rate Bassmaster Elite at Mississippi River.
With the win, Palaniuk has become just the 12th competitor to win multiple Angler of the Year trophies, with his first coming in 2017.
"It is amazing. It hasn't sunk in all the way yet," Palaniuk told Bassmaster.com. "The feeling of winning and that accomplishment, that moment and feeling when (Dave) Mercer announces it on stage, that is what makes all the hard work, the early mornings, the late nights, and the hard times OK. It makes it worth it. For me, it is another piece of the puzzle of this crazy life we live, and I'm glad the pieces fell the way I wanted them to."
Palaniuk exclusively uses Leupold Performance Eyewear. His frame of choice is the Refuge, one of 10 distinct frames Leupold offers. All 10 styles are made from lightweight, ballistic-rated materials and ship with scratch-resistant, polarized lenses as rugged and clear as those featured in the company's legendary riflescopes, making them the best eyewear on the market for hunting and fishing. Four of the 10 styles–the Packout, Switchback, Payload, Tracer, and Sentinel–meet or exceed ANSI Z87.1+ high-velocity impact standards for eye protection.
A necessity for the fishing market, each style is available with Leupold's In-Fused Polarized Technology, which uses an advanced manufacturing process that fuses the polarization film in-between two of the lens layers. The process provides permanent polarized protection that won't scratch or deteriorate over time, so you'll never have to worry about slowing down.
"Every week I'm out there fishing against the best anglers in the world," Palaniuk said. "When you're on the water hunting trophy fish, your eyewear is one of the most valuable tools you've got. Leupold's Performance Eyewear is lightweight, rugged, and clearer than anything else I've ever worn and the polarized lenses in my Refuge frames helped me see what other competitors might be missing."
BRANDON'S FAVORITE EYEWEAR STYLES