As Fresh as Spring
---
Spring is here and you're back in the woods listening for thundering gobbles of love-sick toms, searching for antler sheds as the snow-line rises, and chasing black bears as they begin shaking off their winter rust.
With all this running around, it's easy to work up a big appetite, but the last thing you want to do is spend a ton of time cooking. Whether you're around a campfire or your kitchen at home, this Spring Venison Cutlet recipe is a quick, fresh meal that's sure to fuel your next outing in the sunshine.
While we used venison as the primary protein, you can substitute almost any wild game or fowl of your choice. And if you're feeling up to the challenge, keep an eye out this spring for non-game ingredients from the woods to make this entire meal truly 'Field to Table'.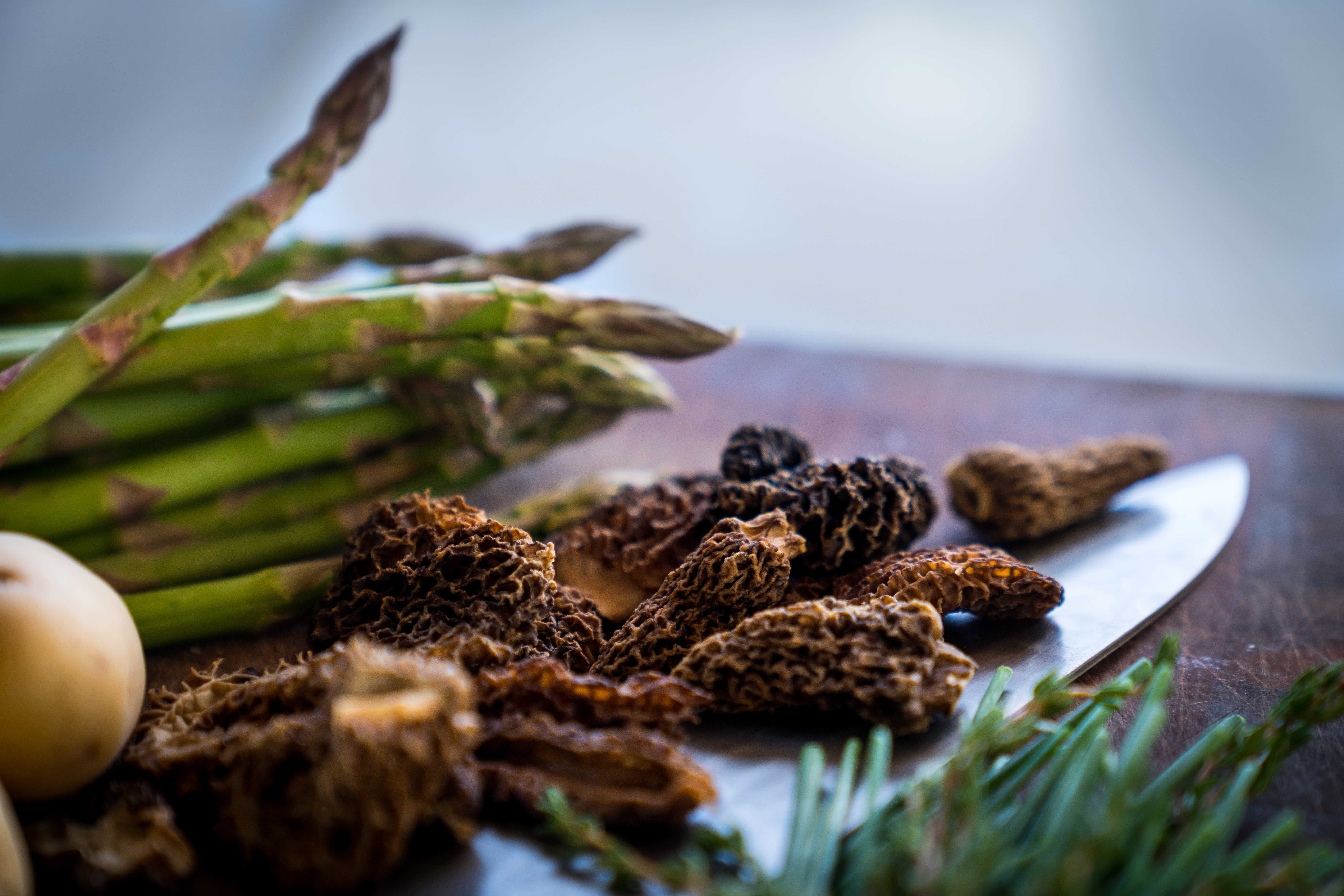 The first main ingredient to keep an eye out for this spring are Morel mushrooms. These prized mushrooms are found across most of the U.S. and Canada in burns from the previous year and usually require a bit of gentle cleaning to get all the grit out. Get yourself a mushroom book if you don't know what you're looking for and be sure to identify them properly.
Spring onions are another wild ingredient to look for. These are easy to find on sunny slopes early in the season and you can usually smell them as you trample them while out bear hunting. Spring onions are similar to a green onion, you can use the green parts in just about any application. They make a great addition to a Mountain House meal or tossed into whatever you are cooking back home. In this recipe you can easily swap out the chives for spring onions.
Lastly, and this one is a bit trickier to locate, is wild asparagus. You can usually stumble across patches of the stuff in the fall after it has become woody, but it bears no resemblance to the asparagus we all know. A quick google search will turn up some more pointers on how and where to find wild asparagus.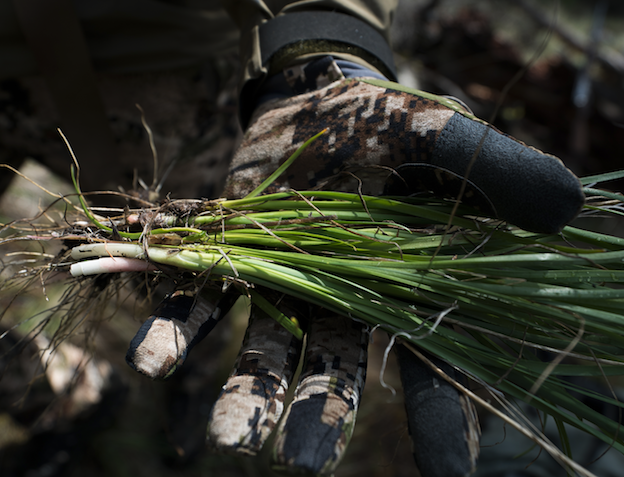 If you can't find any of these items while out in the woods, don't sweat it. The more mainstream options from the grocery store still work and taste great.
Ingredients:
---
Serves 2.
Sour Cream Smashed Potatoes
1 lb Baby yellow potatoes
3 Tablespoons Butter
1/4 Cup Sour cream
1 Teaspoon Salt, plus extra for simmering
Cutlets
1 lb Venison hind leg muscle, cleaned of all connective tissue and cut against the grain into 1" slices. Can substitute turkey breast, grouse breast, elk, etc.
Salt, or your favourite seasoning salt
Fresh ground pepper
2 Tablespoon Oil
Roasted Morels and Asparagus
1 Tablespoon Oil
4 oz Morels, cleaned, stems removed and halved. Substitute any mushroom of your choice
8 oz Asparagus, 1.5-2" slices
2 cloves Garlic, thinly sliced
2 Tablespoons Butter
1 small bunch Spring onions or chives, 1" chopped
3-4 sprigs Thyme
Step-By-Step Instructions:
---
Sour Cream Smashed Potatoes
Place the potatoes into a pot, cover with water, season with a two pinches of salt and simmer until the potatoes are cooked. Approximately 15-20 minutes.
Once cooked, strain the potatoes and crush them with a fork in a bowl. Keep them slightly chunky.
Mix the butter, salt and sour cream into the potatoes.
Taste the potatoes and adjust the seasoning as you see fit.
Keep the potatoes in a warm place until ready to serve.
Cutlets, Morels and Asparagus
Place the 1" thick cutlets between two layers of Saran wrap.
Use a mallet or an improvised flat heavy object to pound out the cutlets to 3/4" thick. Smashing the cutlets helps to tenderize the meat, keeping an even cutlet thickness will result in more even cooking.
Heat a heavy bottom pan over medium high heat.
Season both sides of the cutlets with salt and pepper.
Add the oil to the pan and when it begins to smoke, sear the cutlets on both sides so they are brown and cooked to your desired doneness. Work in batches if necessary so the pan doesn't become overloaded.
Rest the cutlets in a warm spot.
Wipe out the pan, add 1 Tablespoon of fresh oil and place over medium heat.
When the oil smokes, add the morels and sauté for 60-90 seconds.
Season the morels with salt, add the asparagus and butter to the pan.
Sauté for another 90 seconds and add the sliced garlic, remaining tablespoon of butter and toss and cook until the garlic browns.
Add the chopped chives and cutlets back to the pan and toss.
Pluck the thyme leaves from the sprigs, add to the pan and serve.
Critical Points
Taste all the components as you cook them and adjust the seasoning to your personal preferences. Simple dishes like this need great seasoning. Always taste and adjust.
Adjust the time and temperature as you need. If the asparagus is burning before its cooked, turn down the heat etc.
This recipe calls for the cutlets, morels and asparagus to be cooked in the same pan but it can be cooked separately if you prefer.
Resting cooked meat is very important! This allows the juices to relax in the meat and also results in a more even cook. Keep the meat very warm during the resting and reheat it gently before serving if needed.