---
With fall hunting season in full swing, you may be looking for new ways to prepare the pounds of freshly processed wild game meat. When it comes to simple recipes that can please all, you can't go wrong with a quality burger. But this isn't your standard cheeseburger.
Jalapeño poppers have long been a go-to for hunters as an easy-to-make wild game appetizer loaded with flavor. This recipe takes those same flavors and packs them into a burger that is sure to please everyone in camp or at home. Quality ingredients and good execution is what make the difference here. Utilize a soft brioche bun, thick-cut bacon, and crisp iceberg lettuce. Don't be afraid to deviate from the ingredient list and add your own flare: hot sauce, fried onions, ballpark mustard, tomato jam, aged cheddar, etc.
The ground bison used in this recipe was taken from a wild herd in Northern B.C. in the dead of winter but any ground wild game meat will work. If you're processing the meat yourself, for best results grind the meat with a coarse die and keep it very cold while grinding to prevent smearing. The burger patty in this recipe is seasoned just with seasoning salt to let the meat shine. By seasoning before forming the patties, the salt will help to bind the burgers for easier handling while grilling.
It is recommended to cook game burgers to an internal temperature of 160℉.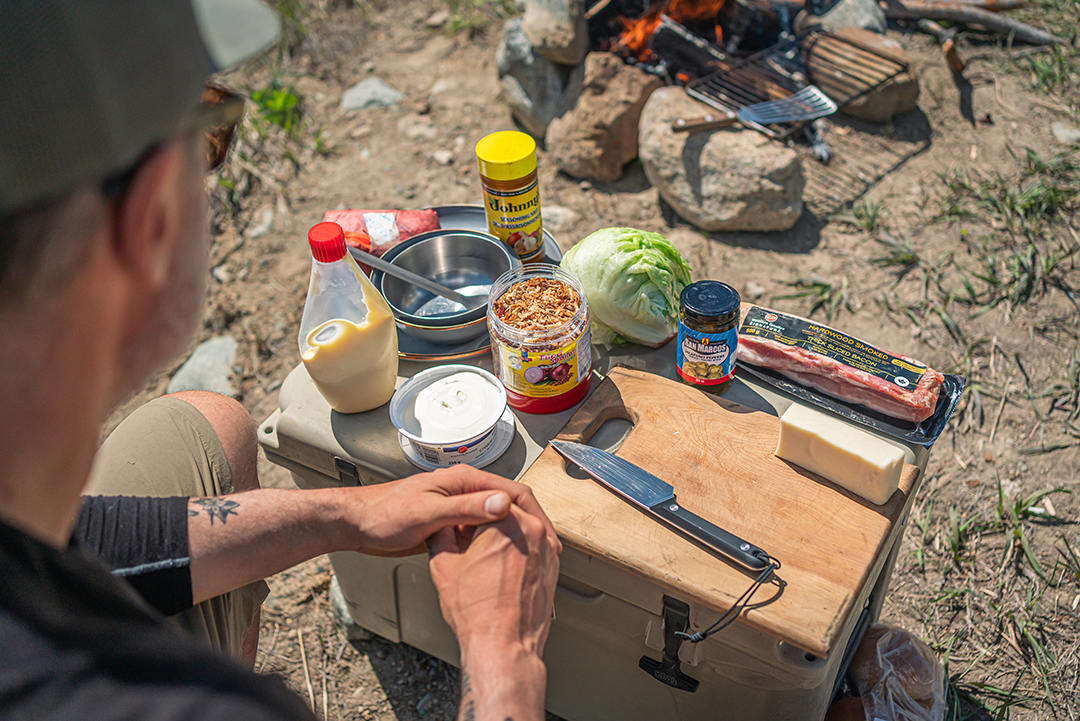 Ingredients:
---
Cream Cheese Spread
¼ cup Cream cheese
¼ cup Mayonnaise
Other
12 oz Coarse ground game meat
¾ tsp Seasoning salt
4 slices Thick cut bacon
⅙ head Iceberg lettuce
4 oz Monterey jack cheese
4 oz Pickled Jalapeno peppers
2 fl oz Crispy fried shallots. These can be found on Amazon
2 Brioche buns
Step-By-Step Instructions:
---
Cream Cheese Spread
Add the cream cheese to a bowl and work briefly with a spoon to loosen for approximately 15 seconds.
Mix the mayonnaise into the cream cheese and refrigerate it until needed.
Cooking
Light the campfire or spark up the grill.
Season the ground game with the seasoning salt, mix and form into two patties a half-inch bigger than the buns.
Cook the bacon in a pan until crispy and golden and set aside.
Grill the burgers over medium-high heat until half cooked.
Flip the burgers and distribute the cheese over the top.
Toast the buns in the bacon fat until crispy dark golden brown and hot throughout.

Smear both sides of the buns liberally with the cream cheese spread, add iceberg, burger patties, bacon, pickled jalapeño, and crispy fried shallots.
For the best eating experience, share your meal with friends or family in an epic location.