---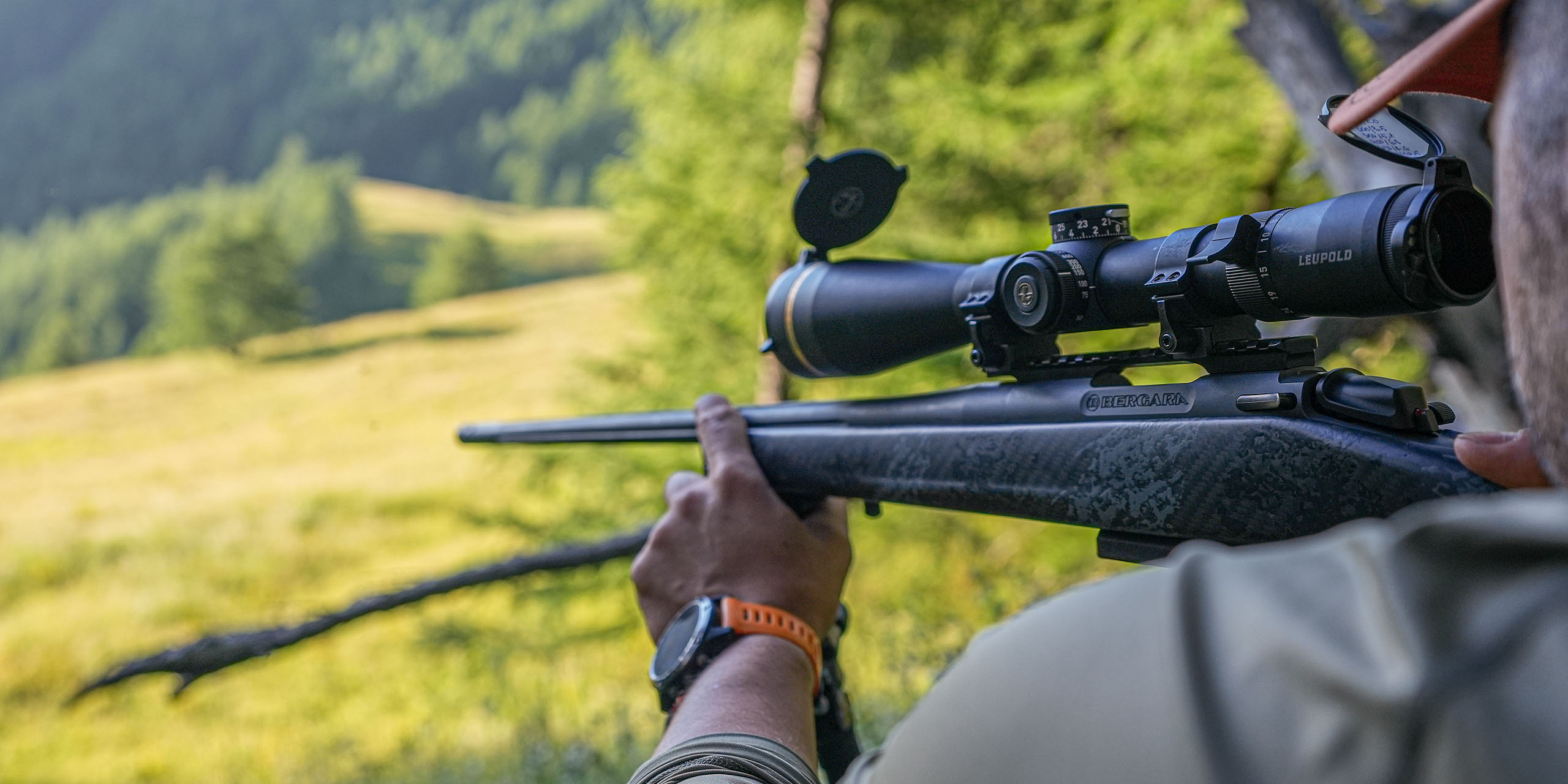 Although you wouldn't have any problems taking a new scope straight to the proving grounds, quality add-ons can protect your glass and up your speed. Check out these eight must-have riflescope accessories made to elevate your shooting experience.
1) MOUNTS
First things first—there's nothing more crucial than the link between your scope and firearm. That's why our mounts are every bit as rugged and dependable as the Leupold optics they secure. And with our huge variety of mounting systems to choose from, you're sure to find the perfect match for your weapon and style of shooting. Whether you go with a carbon steel mount or one of our lightweight aluminum options, your scope won't go anywhere unless your rifle does. Try our Mount Finder to simplify your search.
2) ALUMINA LENS COVER
Protection is important so start with the Alumina® Flip-Back™ lens covers. These feature powerful neodymium magnets and triple O-ring seals to provide maximum protection from the elements. You can't see through them, but for shielding the important parts of your optic, nothing else compares. When you get ready to shoot, simply flip them up to expose your scope's crystal-clear glass.
3) SCOPE COVER
Another must-have accessory on our list for protecting your riflescope is our water-resistant neoprene scope cover. Using a protective sleeve like this is an easy way to prevent your scope from getting scuffed up when traveling over rocky terrain. It's available in sizes ranging from small to XXL and easily slides over just about any Leupold riflescope.
---
4) CUSTOM DIAL SYSTEM
Once you lock down your scope with a set of Leupold mounts and pick up a way protect it, adding a custom dial should be your number-one move. Leupold's Custom Dial System® (CDS®) helps you easily compensate for bullet drop and make ultra-quick adjustments on the fly. We can customize your scope's elevation dial to match your exact load, muzzle velocity, and environmental conditions for unprecedented precision. And every CDS model scope is eligible for one free custom dial.
5) OPTIC LENSPEN
The LensPen isn't high speed like some of the other gear on this list, but it might be the most valuable. After all, the whole point of a scope is to enhance your vision, and that starts with clean glass. This compact, two-step LensPen has a retractable natural hair brush and a microfiber cleaning tip, which automatically replenishes itself with a state-of-the-art cleaning compound. Grab a few to keep on hand for those mud-spattered moments in the field.
6) ANTI-REFLECTION DEVICE
Maybe you already have a LensPen, or maybe you'd rather prevent dirt from hitting your glass in the first place. Lucky for you, we offer the Anti-Reflection Device. While its primary function is glare reduction, it also serves as a barrier between large rocks and a scope's objective lens. It's an excellent addition to your rifle setup if you spend most of your time aiming downrange in the desert.
7) ALUMINA LENS SHADE
Now, if you hunt or shoot where it rains as much as the sun shines, then the Alumina Lens Shade is the accessory you need. Threads on both ends of its barrel allow you to screw several of them together to create custom lengths, and since it's aluminum, it won't weigh down the front of your scope. Install one of these and be rewarded with a view free from water, glare, and debris.
8) THROW LEVER
Designed to fit VX®-5HD and VX®-6HD riflescopes, this lever provides a ton of real estate for grabbing and ripping when you need to zoom in or out. From close-range scanning to long-range shooting, you'll be able to quickly dial in your scope's power level using this easy-to-install add-on, even while wearing gloves. It's constructed of aircraft-grade aluminum, manufactured in the USA, and worth every penny.