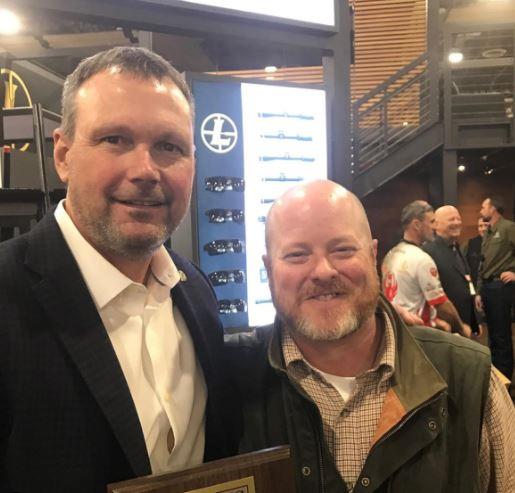 Leupold & Stevens, Inc., is pleased to announce that the FX-II 2.5x20 Ultralight riflescope has been named "Gray's Best" for Vintage products by Gray's Sporting Journal. The award was announced in Gray's 2020 Expeditions & Guides Annual and presented to Leupold's President and Chief Executive Officer Bruce Pettet last month at SHOT Show.
The Gray's Best awards are selected by the editors of Gray's Sporting Journal, who choose gear that not only makes good first impressions, but satisfies during repeated use. Choices are made of the Editorial team's own volition, absent encouragement or incentive from the manufacturers.
"At just eight inches long, with a one-inch tube and weighing a mere 6.5 ounces, the 2.5x lends itself to more applications, on more rifles, than any other scope in the line, and maybe any other scope in the world," Terry Wieland said in his Gray's Best review, "… the FX-II Ultralight's suggested retail is $354.99 – little enough that it's worth buying two or three, just to have them around. They are always useful."
There's no secret to the enduring success of Leupold's fixed-power riflescope. Offering simplicity, rugged performance, and relentless accuracy speaks volumes. The FX-II 2.5x20 Ultralight features the company's Twilight Light Management System, which amplifies ambient light in low-light environments and manages glare while minimize image wash-out. Its ultra-lightweight construction disperses recoil energy for unrivaled durability.
"The FX-II Ultralight is one of the most enduring designs to ever come out of our Beaverton, Oregon factory – it's been in our lineup for decades, and has outperformed its competition the entire time" Pettet said. "We're ecstatic that the editorial team at Gray's Sporting Journal – one of the most respected publications in the hunting and outdoor industry – have recognized its unrivaled performance."
Waterproof, fogproof, and guaranteed to perform for life, the FX-II 2.5x20 Ultralight riflescope is designed, machined, and assembled in Leupold's Beaverton, Ore., factory.